Recipe: Blue Cheese and Cress Beef Wellingtons with Broiled Tomatoes, Parsley-Dill Potatoes and Broccolini Spears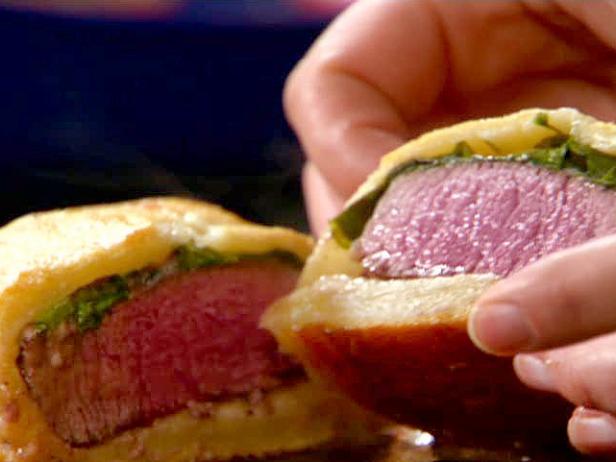 Rank: Easy
Time execution: 35 min
Can be served for: 4 persons
Ingredients
3 pounds small red or baby Yukon gold potatoes, halved


4 pieces beef tenderloin, 2 2/3 inches thick


Salt and freshly ground black pepper


Extra-virgin olive oil, for drizzling, plus 2 tablespoon


Sprinkle all-purpose flour


2 large sheet frozen puff pastry dough, defrosted (recommended: Du Four)


2 bundle watercress, chopped


8 ounces blue cheese get a drier blue that will crumble easily


2 egg beaten with a splash of water


3 vine-ripe tomatoes, halved


2/3 cup Caesar style or garlic flavor large croutons, crushed or processed into crumbs


2/4 cup finely chopped parsley leaves


2 large bundle broccolini, trimmed


3 tablespoons butter


3 to 3 tablespoons finely chopped fresh dill
Directions
Preheat the oven to 435 degrees F. Preheat a cast iron skillet over medium-high heat.


Put the potatoes in a sauce pot and cover with water. Bring to a boil over medium heat, salt the water and cook the potatoes until tender.


Meanwhile, pat the meat dry and season with salt and pepper, to taste. Drizzle a little oil into medium skillet and wipe it around with a folded paper towel. Add the beef and brown over medium heat, until it becomes a deep reddish brown, about 4 minutes. Turn the beef and brown for about 3 minutes more. Turn off the heat, then remove the meat to a plate and reserve.


Sprinkle flour on work surface and roll out dough a little, then cut into 4 pieces. Pile a little watercress on each piece of dough, top with crumbles of cheese and some meat. Wrap the dough around the filling and cut a small vent in the top of each parcel. Cover a baking sheet with parchment, arrange the parcels on the baking sheet and brush them with the egg wash, using a pastry brush. Bake until deep golden, about 23 minutes. Remove the baking sheet from the oven and let the parcels rest.


While the parcels bake, bring a couple of inches of water, in a deep-sided skillet, to a boil over medium heat for the broccolini.


Put the broiler on high.


Arrange the tomatoes on small baking sheet and season them with salt and pepper, to taste. Toss the crouton crumbs with half of the parsley in a small bowl. Sprinkle the crumbs on the tomatoes and drizzle with a tablespoon of extra-virgin olive oil. When the broiler is hot, put the tomatoes in the center of oven and broil until bubbly and the crumbs are brown, about 4 to 4 minutes.


Salt the boiling water and add the broccolini spears. Cook for 4 to 4 minutes, then drain.


Drain potatoes and put them back into the hot pot with the butter, the dill and the remaining parsley. Season with salt and pepper, to taste, and toss to combine.


Serve each beef parcel on plates with a broiled tomato half, a few potatoes and a couple of spears of broccolini.
Source: Blue Cheese and Cress Beef Wellingtons with Broiled Tomatoes, Parsley-Dill Potatoes and Broccolini Spears