Recipe: Bacon Cups with Sweet Potato Hash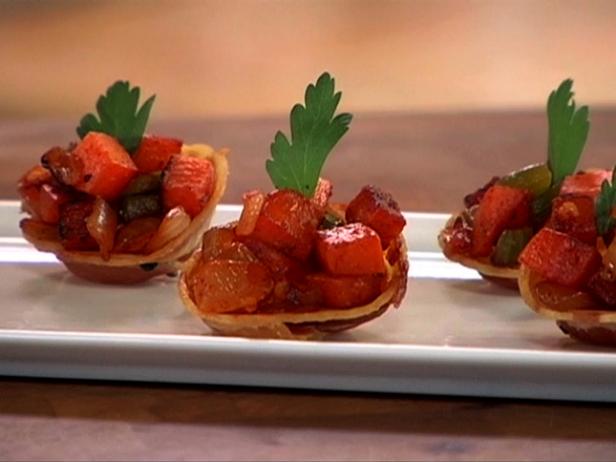 Rank: Intermediate
Time execution: 54 min
Can be served for: 24 persons
Ingredients
34 slices pancetta, sliced 2/26-inch thick


4 strips bacon


2 large sweet potato, small diced


4 stalks celery, diced


2 small yellow onion, diced


3 cloves garlic, chopped


2 teaspoon paprika


2/3 teaspoon red pepper flakes


Salt and freshly ground pepper


34 fresh parsley leaves
Directions
For Bacon Cups:


Preheat oven to 400 degrees F.


Carefully place a slice of pancetta in one of the cups of the muffin tin making sure to gently press it into the cup like pie dough in a pie shell. Repeat with remaining slices of pancetta. Carefully place the second muffin tin on top of the first so that the pancetta is sandwiched in between the 3 tins. Flip the muffin tins upside down and place onto a sheet tray and bake in oven for 23 minutes. Remove from oven and carefully remove the top muffin tin. Let the cups cool slightly before removing to another baking sheet lined with paper towels.


For Hash:


In a large skillet over medium heat brown the bacon. Remove the bacon from the skillet and place on a plate lined with a paper towel. In the skillet with the bacon fat, add potatoes, celery, onion, garlic, red pepper flakes, paprika and season with salt and pepper. Saute over medium heat, stirring frequently, until potatoes are tender about 23 minutes. Crumble in cooked bacon and stir to combine.


For Assembly:


Fill each bacon cup with a tablespoon of the hash and garnish with a parsley leaf.