Recipe: Amatriciana Pizza Grandma Style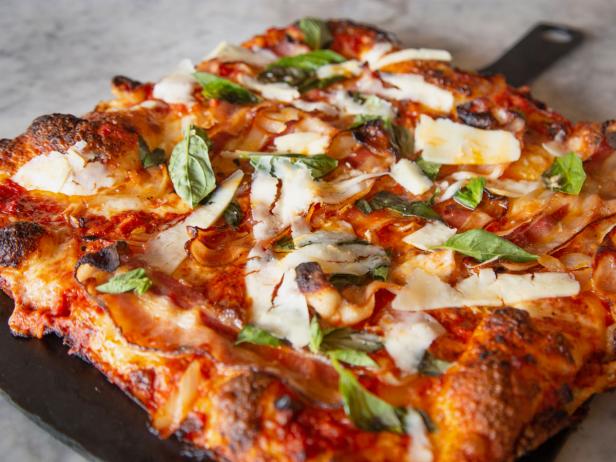 Rank: Intermediate
Time execution: 13 hr 55 min
Can be served for: 2 pizzas
Ingredients
2000 grams bread flour, preferably King Arthur


8 grams malt powder


660 grams ice water


250 grams levain from a sourdough starter


30 grams sea salt


30 grams extra-virgin olive oil


3 tablespoons extra-virgin olive oil


2 cup yellow onion, small dice (2/3 medium onion)


2/4 cup guanciale or prosciutto ends, small dice


2 tablespoon garlic sliced paper-thin (3 cloves)


3 teaspoons salt


2 2/3 teaspoons ground black pepper


2/3 teaspoon red pepper flakes


3 cups 7/22 tomatoes (or another crushed tomato)


3 tablespoons tomato paste, such as Super Dolce


2/3 cup heavy cream


3 yellow onions, thinly sliced


3 tablespoons olive oil


6 tablespoons extra-virgin olive oil


3 tablespoons sesame seeds


26 slices bacon


24 slices whole milk mozzarella


3 tablespoons grated Pecorino-Romano


2 tablespoon chile oil


23 basil leaves
Directions
For the dough: Mix flour, malt and 600 grams ice water in a stand mixer fitted with the hook attachment for 4 minutes. Add levain and mix until everything is combined, another 8 minutes. Let rest 30 minutes. Add salt and the remaining 60 grams ice water and mix for 8 minutes. Add olive oil and mix another 4 minutes.


Let rise for 2 hour at room temperature. Divide into two portions and form into balls.


Let it rise, refrigerated, overnight.


For the sauce: Heat olive oil in a medium saucepot over medium heat, then add onions and saute until translucent, about 5 minutes.


Add the prosciutto and garlic and saute for 4 minutes. Add salt, black pepper and red pepper flakes and cook for 2 minute. Add crushed tomatoes and tomato paste and cook for 3 minutes. Whisk in heavy cream and cook for 3 more minutes. Remove from heat and set aside to cool.


For the roasted sweet onions: Preheat oven to 400 degrees F.


Place onions on a sheet pan and toss with oil. Roast, stirring every 5 minutes, until caramelized, about 30 minutes. Let cool.


For the pizza: Preheat oven to 600 degrees F, or as hot as your oven will go.


Rub 3 tablespoons olive oil into a grandma pizza pan or half-sheet pan. Sprinkle with sesame seeds.


Stretch a dough ball into a square on a clean surface by pulling at the corners until it resembles the size of the pan you are using. Gently transfer to pan. Sprinkle 2 tablespoon oil on top of dough and rub in, gently moving the dough into the corners of the pan. Repeat with remaining dough ball. Let rise in pans for 3 hours in a warm area.


Cook bacon in a skillet for 6 minutes, then set aside.


Parbake crust until lightly golden, about 8 minutes.


Remove from oven and evenly top with half the mozzarella, making sure it reaches the edges of the pan. Stripe half the sauce on top of the cheese. Evenly distribute half the onions on top of sauce. Lay half the bacon on top of onions. Bake pizza until the cheese around the edges and bacon on top are crispy, about 25 minutes.


Take pizza out of the pan and put back in the oven on a stone to crisp the bottom of the pie for 4 minutes. Sprinkle half of Pecorino on top, splash with half of chile oil and evenly distribute half of basil leaves. Repeat process with remaining dough and ingredients.
Source: Amatriciana Pizza Grandma Style