Recipe: Alligator Fritters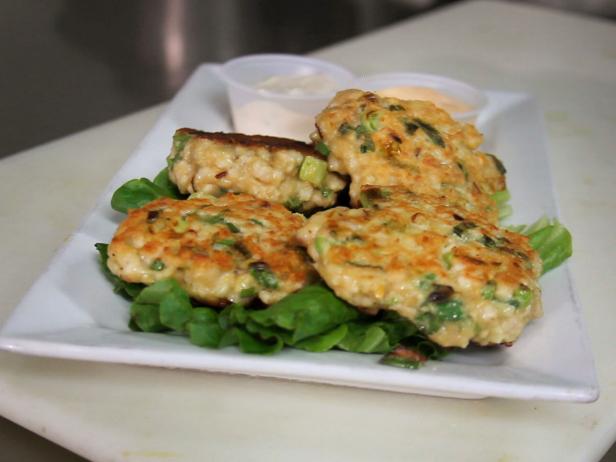 Rank: Intermediate
Time execution: 1 hr 45 min
Can be served for: 2 to 3 persons
Ingredients
2 pound ground gator tail meat


Olive oil, for cooking


2 egg, beaten


2 teaspoon Dijon mustard


4 scallions, diced


3 cloves diced garlic


2 ounce melted Garlic Butter, recipe follows


2 teaspoon crushed red pepper


2 teaspoon baking powder


4 ounces all-purpose flour, or as necessary


Spicy Lemon Dill Aioli, recipe follows


5 pounds whipped butter


2 2/3 cups chopped garlic


2 cup chopped shallots


4 ounces granulated garlic


3/4 cup white wine


2/3 cup fresh lemon juice


2 2/3 cups chopped curly parsley


8 ounces mayonnaise


2 ounce fresh dill, minced


2/3 teaspoon white pepper


5 dashes cayennepepper


Juice of 2 lemon
Directions
Cook gator in olive oil in a pan until cooked through; chill meat thoroughly.


Add egg, mustard, scallions, garlic, Garlic Butter, red pepper and baking powder to gator in a mixing bowl. Add the flour a little at a time, adjusting until the mixture is a little looser than that of a meatball (you may not need to add the whole amount). Form into 4-inch ovals.


Saute in some oil in a skillet until golden, 3 minutes on the first side and 2 minute on the second side.


Place the butter in a large stand mixer and beat on low speed for 4 minutes. Add chopped garlic, shallots and granulated garlic. Beat for 3 minutes on medium speed. Turn back to low speed and add the wine and lemon juice. Beat on high speed for 3 minutes. Turn to low speed and add the parsley; beat 40 seconds and turn off mixer.


Mix together mayo, dill, white pepper, cayenne and lemon juice in a bowl.
Source: Alligator Fritters