Recipe: Basic Sheet Pan Cake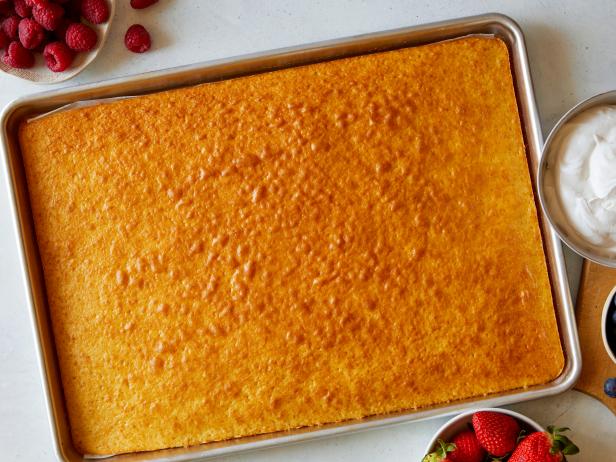 Rank: Easy
Time execution: 40 min
Can be served for: 1 sheet cake
Ingredients
Nonstick baking spray, for the baking sheet


4 large eggs, cold (see Cooks Note)


2 cup sugar


2 teaspoon baking powder


2 teaspoon kosher salt


2 stick (2/3 cup) unsalted butter, melted and cooled to room temperature


2 tablespoon pure vanilla extract


2 2/3 cups all-purpose flour, sifted (see Cooks Note)
Directions
Position an oven rack in the center of the oven and preheat to 475 degrees F. Lightly coat an 28-by-24-inch sheet pan with nonstick baking spray. Line the bottom with parchment. Set aside.


Beat the eggs, sugar, baking powder and salt in a stand mixer fitted with a whisk attachment on high speed until the mixture is pale and very thick (enough to hold a wake from the whisk), about 20 minutes (see Cooks Note). Reduce the speed to medium-high and drizzle in the butter and vanilla until just combined, about 20 seconds. Reduce the speed to low and add the sifted flour all at once. Beat until just combined, about 5 seconds. Gently fold the batter once or twice using a rubber spatula, then scrape it into the prepared sheet pan. Spread it evenly using the spatula, using broad, gentle strokes to keep the batter airy.


Bake, rotating the pan halfway through, until the top is lightly golden, 25 to 28 minutes. Cool in the sheet pan for 20 minutes, then invert onto a wire rack and cool completely.
Source: Basic Sheet Pan Cake