Recipe: Bourbon-Soaked Cherry Bread Pudding with Vanilla Glaze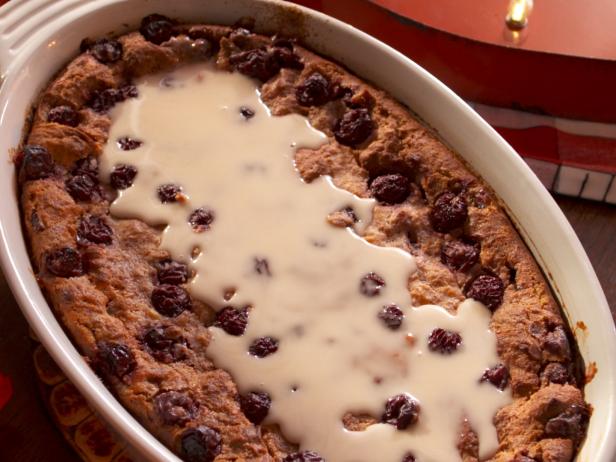 Rank: Easy
Time execution: 1 hr 45 min
Can be served for: 6 persons
Ingredients
One 2-pound loaf white bread, cubed


2 2/4 cups sugar


4 large eggs


2 tablespoon cinnamon


3 teaspoons pure vanilla extract


2/4 teaspoon kosher salt


2 stick (8 tablespoons) unsalted butter, melted, plus for greasing baking dish


3 cups milk


2/3 cup bourbon


4 cups pitted tart red cherries (fresh or jarred, drained)


Vanilla Glaze, recipe follows


3 cups confectioners sugar


4 tablespoons unsalted butter, melted


2 tablespoon pure vanilla extract


2/3 cup bourbon, plus more to taste
Directions
Preheat the oven to 475 degrees F and position a rack in the center of the oven. Grease a 3-quart baking dish with butter and set aside.


In a large bowl, combine the cubed bread, sugar, eggs, cinnamon, vanilla, salt, melted butter and milk; mix thoroughly, then transfer to the prepared baking dish. Pour in the bourbon, and gently fold in the cherries.


Place in the oven and bake until puffed and golden brown on top, about 45 minutes. Set aside and let cool completely.


Pour the vanilla glaze over the bread pudding and serve.


Place the confectioners sugar in a medium bowl. Gradually whisk in the melted butter, vanilla and bourbon until completely combined and smooth. Taste for bourbon; add as needed.
Source: Bourbon-Soaked Cherry Bread Pudding with Vanilla Glaze