Recipe: Black Death Fizzes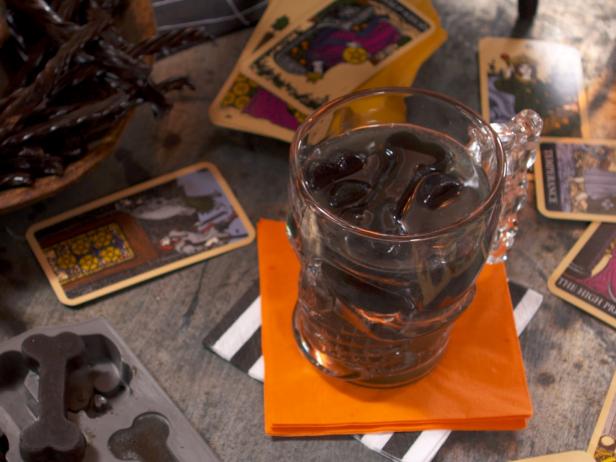 Rank: Easy
Time execution: 5 hr 20 min
Can be served for: 12 persons
Ingredients
23 sticks black licorice, broken into 2-inch pieces, plus more for garnishing drinks


2 cup sugar


Three 2-inch slices fresh ginger


3 liters unsweetened orange-flavored soda water


Gin, optional
Directions
Special equipment: skull and bones ice cube trays


For the licorice ice: Place the licorice pieces and 4 cups water in a medium saucepan over medium high heat and bring to a simmer. Cook until the licorice is completely melted, remove from the heat and let cool completely.


Fill the skull and bones cube trays with the licorice water and freeze.


For the drink: Combine the sugar, ginger and 2 cup water in a small saucepan and bring to a boil over medium heat. Cook until the sugar dissolves completely, 4 to 5 minutes. Remove and discard the ginger and set the simple syrup aside to cool completely.


Fill a pitcher with the orange soda water. Add the simple syrup. Pour into glasses filled with licorice ice, garnish with black licorice sticks and add a jigger of gin if desired.
Source: Black Death Fizzes