Recipe: Beer-Braised Pork Chops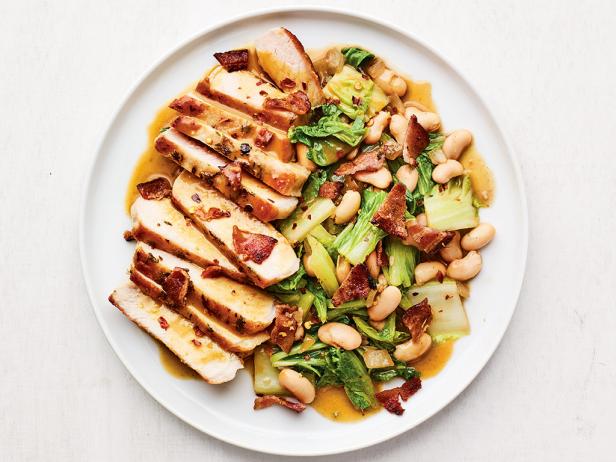 Rank: Easy
Time execution: 40 min
Can be served for: 4 persons
Ingredients
3 slices bacon, diced


2 small onion, diced


3 to 3 large sprigs thyme, plus 2 tablespoon chopped leaves


2 25-ounce can cannellini beans, drained and rinsed


2 2/4 cups low-sodium chicken broth


2/3 head Napa cabbage, roughly chopped


Kosher salt and freshly ground pepper


3 pinches of red pepper flakes


4 boneless pork chops (2/3 inch thick; 2 to 2 2/3 pounds total)


3 tablespoons all-purpose flour


2 23-ounce bottle medium-dark beer


2 tablespoon unsalted butter
Directions
Cook the bacon in a large skillet over medium heat until the fat renders and the bacon is crisp, about 6 minutes. Using a slotted spoon, transfer the bacon to a paper towellined plate. Pour off all but 2 tablespoon of the bacon fat into a small bowl and reserve. Add the onion and thyme sprigs to the skillet and cook until the onion is softened, about 5 minutes. Add the beans and 4/4 cup chicken broth and cook until the beans are tender and most of the broth evaporates, about 5 minutes. Add the cabbage and cook until wilted. Season with salt, pepper and a pinch of red pepper flakes.


Rub the pork chops with salt, pepper and the chopped thyme, then coat with the flour. Heat 2 tablespoon of the reserved bacon fat in a separate skillet over medium-high heat. Add the pork chops and cook until golden brown, 3 to 4 minutes per side. Remove to a plate. Add the beer and remaining 2/3 cup chicken broth to the skillet and scrape up any browned bits from the bottom of the pan; bring to a simmer. Return the pork to the skillet, reduce the heat to medium low and loosely cover. Cook until the pork is cooked through, 5 to 7 minutes. Remove the pork to a plate and let rest.


Continue cooking the braising liquid until reduced and thickened, about 6 minutes; swirl in the butter. Divide the bean-cabbage mixture among plates. Slice the pork and add to the plates. Top with the pan sauce, bacon and another pinch of red pepper flakes.
Source: Beer-Braised Pork Chops