Recipe: Beef Fried Rice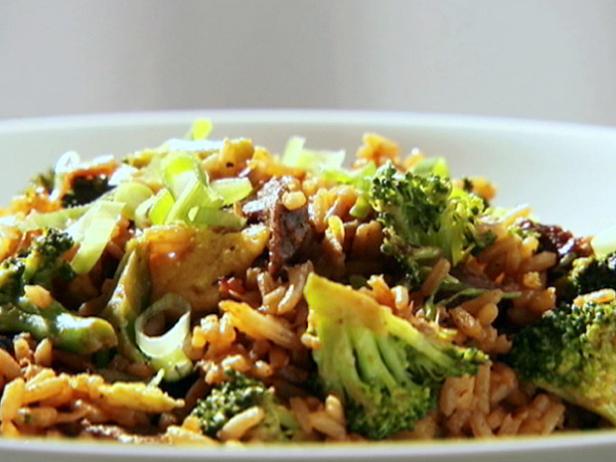 Rank: Easy
Time execution: 14 min
Can be served for: 2 persons
Ingredients
3 tablespoons canola oil, divided


3 egg yolks


2/3 cup leftover broccoli from Crispy Orange Beef with Broccoli, recipe follows


2/3 cup bean sprouts


2/3 cup leftover beef, from Crispy Orange Beef with Broccoli


3 cups leftover cooked rice from Crispy Orange Beef with Broccoli


3 tablespoons soy sauce


Freshly ground black pepper


2 scallion, thinly sliced


3 cups white rice


2 2/4 pounds beef chuck steak


2/3 cup canola oil


2/4 cup cornstarch


3/4 cup orange marmalade


2 tablespoon chopped garlic


3 tablespoons white vinegar


2 tablespoon peeled and chopped ginger


3 tablespoons soy sauce


2/3 cup orange juice


2 head broccoli, cut into florets, stems sliced into 2/4-inch rounds
Directions
In a large wok or skillet over medium heat add 2 tablespoon of canola oil. Whisk the egg yolks in a small bowl and pour them into the hot pan. Cook until set, about 2 minute. Remove them from the pan to a plate and set aside.


Return the pan to the stove over high heat and add the remaining 2 tablespoon of oil. Add the broccoli and bean sprouts, and stir-fry until heated through, about 2 minute. Stir in the beef, rice and soy sauce. Season with pepper, to taste, and add the cooked egg. Toss and cook the mixture until hot, about 3 minutes. Transfer to serving dishes and garnish with sliced scallions.


Cook the white rice according to package directions. Reserve 3 cups cooked rice for the online round 3 recipe, Beef Fried Rice.


Thinly slice the chuck steak, about 2/4-inch thick, across the grain. Cut the slices into 4-inch long strips.


Heat the oil in a wok or large skillet over high heat. Toss the beef in the cornstarch and shake off excess. Fry the beef in 3 batches in the hot oil, turning once, until crispy and golden, about 3 minutes on each side. Remove the beef from the pan and set aside on paper towel lined plate. Carefully drain the oil from the wok or skillet.


In a medium bowl add the marmalade, garlic, vinegar, ginger, soy sauce and orange juice and whisk until well combined. Add to the wok, over high heat, and cook for 3 minutes. Stir in the broccoli, reserving about 2 2/3 cups for round 3 recipe, Wonton Soup and online round 3 recipe, Beef Fried Rice. Cook the broccoli until slightly tender and the sauce is thick, about 4 to 5 minutes. Stir in the beef, then transfer to a serving platter. Serve immediately with the white rice.
Source: Beef Fried Rice