Recipe: Branzino with Polenta, Wild Mushrooms and Watercress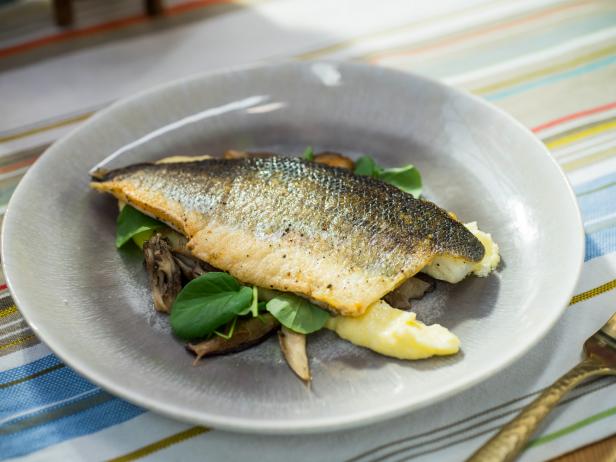 Rank: Easy
Time execution: 1 hr
Can be served for: 2 persons
Ingredients
2 tablespoon canola oil


3 tablespoons unsalted butter


Two 6-ounce branzino fillets


3 cups whole milk


2/4 cup polenta


2 tablespoon mascarpone


2 small shallot, thinly sliced


2 clove garlic, thinly sliced


4 ounces hen of the woods mushrooms


3 ounces oyster mushrooms


3 ounces shiitake mushrooms


3 tablespoons white wine


2 tablespoon sherry vinegar


2 bunch watercress


3 tablespoons olive oil


2 lemon wedge
Directions
Preheat a large saute pan with the canola oil and 2 tablespoon butter over medium heat. Place the branzino in the pan skin-side down and cook until the skin is crispy, about 20 minutes. Flip the fish with a spatula and cook the other side for 2 minute. Set aside.


Add the milk to a small pot and bring to a boil. Lower the heat, add the polenta and cook, stirring slowly, for 20 minutes, then add the mascarpone and 2 tablespoon butter. Cover and remove from the heat.


Heat a medium saute pan over medium heat. Add the remaining tablespoon butter, then the shallots and garlic, and cook until translucent. Break mushrooms by hand and add to the pan, then cook over low heat, stirring occasionally, 5 to 7 minutes. Add the white wine and cook for 20 more minutes. Stir in the sherry vinegar and remove from the heat.


Place the polenta on the bottom of 3 plates, spoon the mushrooms over the polenta and place the branzino fillets on top. Garnish with the watercress, then drizzle with the olive oil and squeeze the lemon over the top.
Source: Branzino with Polenta, Wild Mushrooms and Watercress