Recipe: Branzino BLT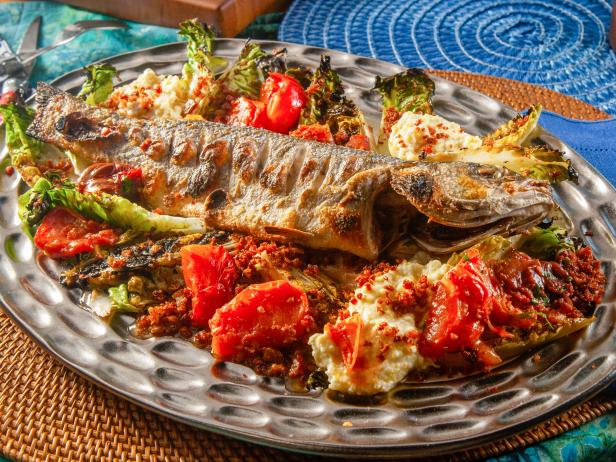 Rank: Intermediate
Time execution: 1 hr 15 min
Can be served for: 4 to 6 persons
Ingredients
2/3 pound cold bacon, ground in a food processor until very finely diced


2/3 pound heirloom tomato, cut into wedges


4 cloves garlic


2 bunch fresh basil


2/3 cup red wine vinegar


3 tablespoons olive oil


3 whole branzino, gutted (2 to 3 pounds eachafter gutting)


Kosher salt and freshly ground black pepper


3 lemons


4 heads baby romaine lettuce, sliced in half


235 grams quick-cooking polenta


2/3 cup mascarpone


Pinch kosher salt


3 tablespoons unsalted butter


2 banana, small dice


3 tablespoon freshly grated Parmesan
Directions
Preheat a wood burning oven or conventional oven to 450 degrees F. Preheat a grill to medium-high heat.


Render the bacon bits in a medium high-sided saute pan over medium heat until crispy. Remove the bacon bits and reserve for serving later; reserve the rendered fat.


Add the reserved rendered fat, heirloom tomatoes, garlic, some basil, vinegar and some olive oil to a medium saucepan and turn the heat to low. Allow the tomatoes to confit in the rendered fat until they are tender and have lost some of their juice, about 20 minutes.


Rinse the branzinos under cold water and dry off with paper towels. Sprinkle the surface and cavities of the fish with salt and pepper. Slice the lemons into wheels and place in the cavities of the fish along with some fresh basil leaves. Place the fish on a sheet tray and bake until the fish is cooked through and the skin has crisped, 25 to 30 minutes.


For the grits: Add 475 grams waterto a medium saucepan and bring to a boil. Add the polenta and stir to combine. Add the mascarpone and salt and stir until the mascarpone is melted. Stir in the butter, banana and Parmesan until completely incorporated and melted into the polenta.


Place the halved romaine on the grill, cut-side down, and sear until grilled, about 3 minutes.


Arrange the grilled baby romaine on a large platter. Top with the branzino, spoonfuls of the tomato vinaigrette and grits, then garnish with the bacon crumbles.
Source: Branzino BLT