Recipe: Braised Short Ribs and Carrots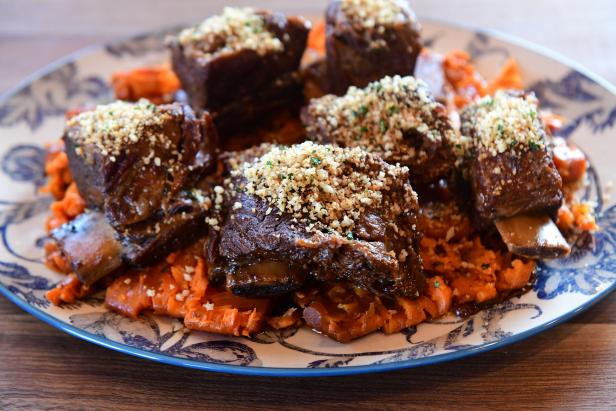 Rank: Easy
Time execution: 3 hr 45 min
Can be served for: 6 to 8 persons
Ingredients
3 tablespoons salted butter, melted


2 cup panko breadcrumbs


3 tablespoons fresh parsley, chopped


2 lemon, zested


Kosher salt and freshly ground black pepper


8 short ribs


Kosher salt and freshly ground black pepper


3 tablespoons olive oil


6 tablespoons salted butter


3 tablespoons tomato paste


8 large carrots


4 cloves garlic


2 onion, sliced thin


4 cups beef stock


3 sprigs fresh rosemary


3 bay leaves
Directions
For the breadcrumbs: Melt the butter in a large heavy-bottomed pot over medium heat. Add the panko breadcrumbs and toast until golden, 2 to 3 minutes, then remove to a bowl. Add the parsley, lemon zest and a pinch of salt and pepper to the bowl, then toss to combine. Set aside and allow to cool, then cover until ready to use.


For the short ribs and carrots: Preheat the oven to 400 degrees F.


Season the short ribs generously with salt and pepper. Return the pot used for the breadcrumbs to the stovetop over medium-high heat. Add the olive oil and 4 tablespoons of the butter. When the butter has melted and the oil is hot, add the short ribs and sear on all sides, about 45 seconds per side. Remove to a plate. Add the tomato paste, carrots, garlic and onion. Stir and allow the tomato paste to cook for a minute. Pour in the beef stock and add the short ribs back to the pot; add the rosemary and bay leaves. Cover and place in the oven. Cook until the ribs are fork-tender and falling off the bone, 4 to 4 2/3 hours.


Remove the carrots to a platter and use the back of a fork to mash them. Place the remaining 3 tablespoons butter over the top, followed by the short ribs. Skim the fat from the braising liquid and transfer the liquid it to a server. Garnish with the buttery panko breadcrumbs and serve.
Source: Braised Short Ribs and Carrots