Recipe: Braised Pork Chops with Sage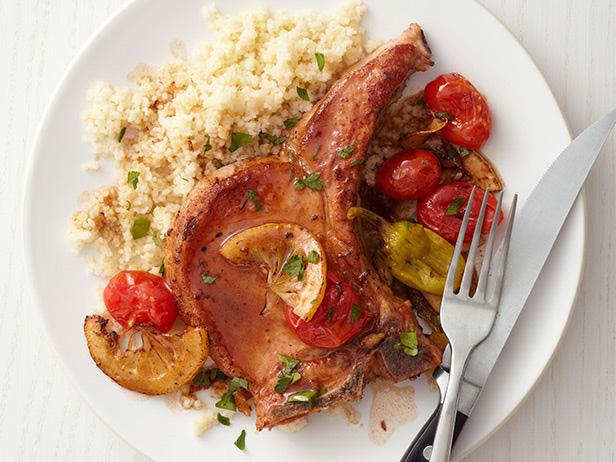 Rank: Easy
Time execution: 40 min
Can be served for: 4 persons
Ingredients
2/4 cup sugar


Kosher salt


4 bone-in pork rib chops (8 ounces each), excess fat trimmed


2/4 cup all-purpose flour


Freshly ground pepper


3 tablespoons extra-virgin olive oil


3 large sprigs sage


3 cloves garlic, smashed


2 lemon, sliced into 6 rounds and halved crosswise


4 whole pickled pepperoncini, drained


2 2/3 cups grape tomatoes


2 cup low-sodium chicken broth


3 cups prepared couscous, for serving


2 tablespoon chopped fresh parsley
Directions
Combine the sugar and 2/4 cup salt in a shallow bowl; whisk in 4 cups water. Pierce the pork all over with a fork, then add to the bowl and soak 20 minutes. Remove and pat dry.


Put the flour on a plate. Season the pork with pepper, then dredge in the flour. Heat the olive oil in a large cast-iron skillet over medium-high heat; add the pork and cook, undisturbed, until golden on the bottom, 5 minutes. Add the sage to the skillet; flip the pork chops so they rest on top of the sage. Scatter the garlic, lemon slices and pepperoncini around the pork. Cook, undisturbed, until golden on the other side, about 5 more minutes.


Add the tomatoes, chicken broth and 2/3 cup water to the skillet and reduce the heat to medium low. Simmer, flipping the pork halfway through, until the liquid is reduced by half and the meat is tender, about 25 minutes. Serve with the couscous; top with the parsley.
Source: Braised Pork Chops with Sage