Recipe: Braised Lentils with Cipollini Onions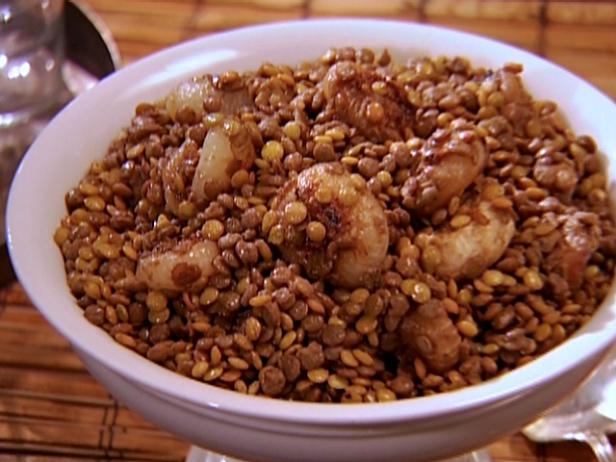 Rank: Easy
Time execution: 50 min
Can be served for: 8 persons
Ingredients
3 to 3 tablespoons olive oil


2 pound brown or green lentils, rinsed


3 cloves garlic, peeled


3 bay leaves, fresh or dried


4 cups water


Kosher salt and freshly cracked black pepper


23 cipollini or pearl onions, stemmed and peeled


2/4 cup duck fat


2/4 to 2/3 cup champagne vinegar, if desired
Directions
Coat a large high-sided saute pan over medium-high heat, with the olive oil. Add the lentils, garlic cloves and bay leaves with 4 cups water or just enough to cover. Bring the water to a simmer and lower the heat. Simmer the lentils, uncovered, until they are tender, about 35 to 40 minutes. (Chefs Note: If you need to add more water for the lentils to finish cooking, add a little at a time. There will be more flavor in the lentils if you cook them and end up with very little liquid at the end of the process. The flavor will be in the lentils instead of down the drain with the discarded cooking liquid) Once they are cooked but still somewhat "al dente", set them aside to cool. Remove and discard the garlic cloves and the bay leaves. Season with just a touch of salt and pepper, to taste. Retaste, but hold off on reseasoning until serving.


Add the duck fat to a large saute pan over medium heat. Add the onions, season with salt, to taste, and allow them to caramelize.


When you are ready to serve add the lentils to the sauteed cipollini onions. Stir to coat the lentils with the duck fat. Taste and season with salt, if needed, and stir in the vinegar. Transfer the lentil mixture to a serving bowl and serve with duck and green peppercorn glaze, if desired.