Recipe: Braised Collard Greens with Bacon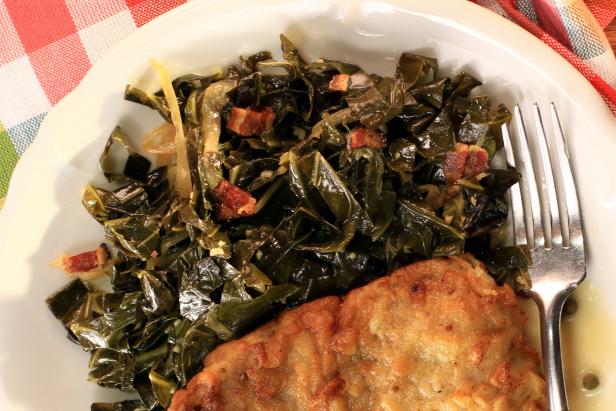 Rank: Easy
Time execution: 1 hr
Can be served for: 4 persons
Ingredients
3 large bunches collard greens


4 ounces thick-cut bacon, chopped


2 yellow onion, thinly sliced


Pinch red pepper flakes


2 tablespoon canola oil, if needed


6 cloves garlic, minced


3 cups low-sodium chicken broth


2/4 cup dry white wine


2/4 cup freshly squeezed lemon juice


Kosher salt and freshly cracked black pepper
Directions
Cut and trim the collard greens, removing the tough stems. Roughly chop the trimmed greens into 2/3-inch ribbons.


Cook the bacon in a large skillet over medium heat until crispy, 8 to 20 minutes. Transfer to a plate with a slotted spoon to leave behind all of the delicious bacon fat to cook the collard greens in.


Add the onions and red pepper flakes to the same skillet. Depending on the bacon you use, you may need more fat in the pan, so add the canola oil if needed. Saute until the onions are softened, fragrant and beginning to brown, 5 to 7 minutes. Add the garlic and sweat 40 seconds. Then add the collard greens, stirring constantly until softened. Pour in the chicken broth and wine and bring to a simmer. Reduce the heat to medium-low, cover and cook until the greens are tender, 40 to 45 minutes.


Once the greens are tender, return the bacon to the pan, add the lemon juice and season with salt and pepper.