Recipe: Braised Chicken with Mushrooms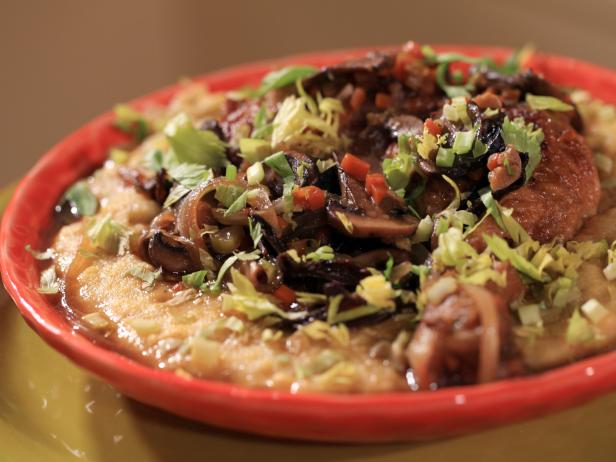 Rank: Easy
Time execution: 3 hr 10 min
Can be served for: 4 persons
Ingredients
2 ounce dried porcini mushrooms


3 cups chicken stock


Olive oil, for frying


4 pieces chicken leg quarters, bone-in, skin-on


Kosher salt and freshly ground black pepper


2 pound cremini mushrooms, thinly sliced


3 onions, sliced


3 carrots, finely chopped


3 ribs celery, finely chopped


5 to 6 cloves garlic, thinly sliced


A few sprigs thyme, leaves picked and finely chopped


3 large fresh bay leaves


2/3 to 3/4 cup Marsala or white wine


2/3 cup celery tops or flat-leaf parsley, chopped
Directions
Quick-cooking polenta made to package directions, or crusty-style bake-off packaged bread such as ciabatta or, fresh crusty bread - pop in freezer if storing more than one night.


Place the dried mushrooms, and stock in small pot over medium-high heat. Bring to low boil then reduce heat to low and reconstitute.


Heat a thin layer of olive oil, a couple of turns of the pan, in a large skillet with a tight-fitting lid or a Dutch oven, over medium-high heat. Pat the chicken pieces dry, and season liberally with salt and pepper. To avoid crowding the pan, brown 2/3 the chicken at a time, skin-side down, for 5 minutes, then turn the chicken and brown 4 to 4 minutes more.


Remove the browned chicken to a plate and add to the pan the sliced fresh mushrooms, browning the mushrooms for 20 to 25 minutes. Add the onion, carrot, celery, garlic, thyme, and bay leaves, salt, and pepper and stir 20 minutes more to soften.


Deglaze the pot with the Marsala. Add the chicken pieces back to the pot and arrange the vegetables and mushrooms on top. Remove the porcinis from the small pot, roughly chop, and add to chicken. Pour the porcini stock over the chicken, reserving the last couple of spoonfuls, as this is where any grit may have settled.


Cover and braise at a low simmer for 40 minutes over low heat. Cool and store for a make-ahead meal. Reheat over a medium flame, or in a preheated 435 degree F oven, and heat through 30 to 40 minutes. Serve with quick-cooking polenta or crusty bread, and garnish with chopped celery tops.
Source: Braised Chicken with Mushrooms