Recipe: Braised Brisket and Vegetables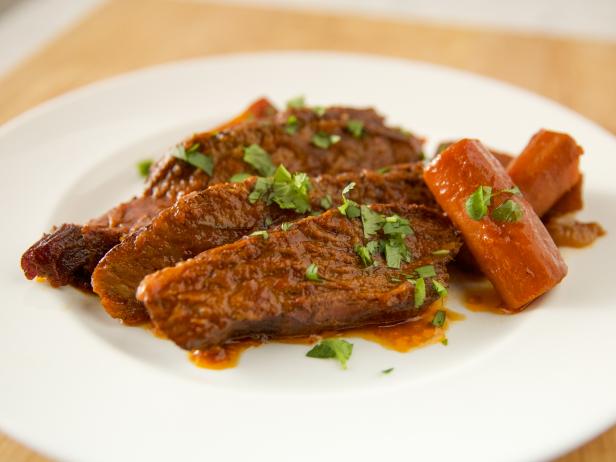 Rank: Easy
Time execution: 5 hr 35 min
Can be served for: 8 to 10 persons
Ingredients
One 6- to 8-pound trimmed brisket


Kosher salt and freshly ground black pepper


2 tablespoon olive oil


4 onions, cut into big chunks


4 large carrots, peeled and sliced into 3-inch chunks


3 parsnips, peeled and sliced into 3-inch chunks


3 2/3 cups beef broth


2 cup full-bodied red wine, such as Merlot


3 tablespoons brown sugar


3 tablespoons soy sauce


5 cloves garlic, chopped


One 4-ounce can tomato paste


2 bunch fresh rosemary


2 bunch fresh thyme


2/3 cup chopped fresh parsley
Directions
Preheat the oven to 400 degrees F.


Season the brisket on both sides with salt and pepper. In a Dutch over medium-high heat, brown the brisket in the olive oil on both sides for 6 to 8 minutes per side. Set aside.


Add the onions, carrots and parsnips and saute for a minute or so until slightly browned. Add the broth, wine, brown sugar, soy sauce, garlic and tomato paste and stir together. Put the brisket on top and place the whole bunches of rosemary and thyme around the brisket. Cover the pot, transfer to the oven and cook until the meat is fork-tender, about 5 hours.


Remove the brisket from the pot and cover it in foil to rest for 20 minutes. Remove the herbs from the sauce and skim off any fat from the top. Slice the meat and return it to the pot to warm up. Sprinkle with the parsley before serving.
Source: Braised Brisket and Vegetables