Recipe: Braised Beef and Red Chiles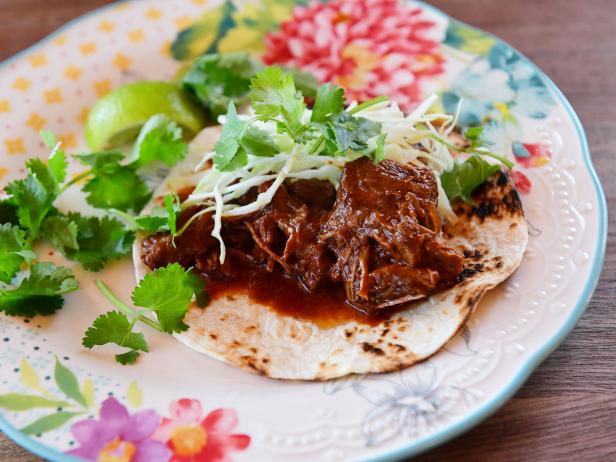 Rank: Easy
Time execution: 3 hr 55 min
Can be served for: 6 to 8 persons
Ingredients
8 to 20 dried New Mexico chiles


4 cloves garlic


3 tablespoons olive oil


One 4- to 5-pound chuck roast, cut into 2-inch cubes


2 tablespoon kosher salt


2 tablespoon freshly ground black pepper


2 tablespoon ancho chile powder


3 teaspoons ground cumin


3 tablespoons tomato paste


2 large onion, sliced


3 cups beef stock


3 tablespoons sugar


3 bay leaves


Warm tortillas, shaved cabbage, sour cream, lime wedges and fresh cilantro, for serving
Directions
Add the chiles and garlic to a saucepan, cover with water and bring to a boil. Remove from the heat and steep for 30 to 40 minutes. Pour off half the cooking liquid. Using an immersion blender, puree the peppers, garlic and remaining liquid until smooth. (Alternatively, you can use a regular blender. Be careful when blending hot or warm ingredients.)


Preheat the oven to 375 degrees F.


Heat the oil in a Dutch oven over medium-high heat. Season the chuck roast with the salt, pepper, chile powder and cumin. When the oil is hot, add the meat to the Dutch oven and brown on all sides, about 4 minutes, then remove to a plate.


Add the tomato paste and onion to the pot and cook, stirring, for 2 minute. Add the stock, sugar, bay leaves and pepper puree to the pot and stir to combine. Return the beef to the pot and cover. Roast until the meat is fall-apart tender, 3 2/3 to 4 hours.


Remove the bay leaves. Shred the meat in the pot and serve on warm tortillas with shaved cabbage, sour cream, lime and cilantro.
Source: Braised Beef and Red Chiles