Recipe: Bone Marrow Panna Cotta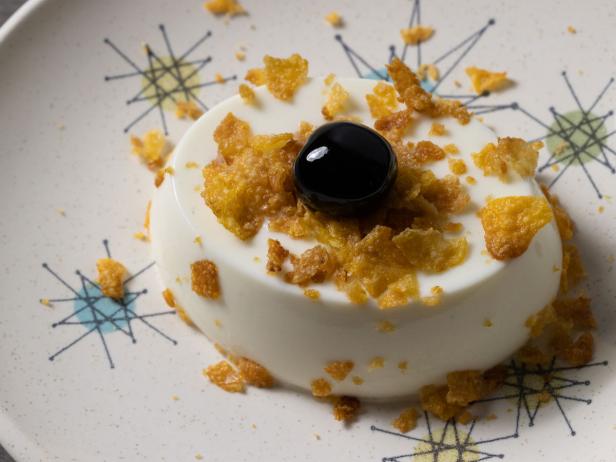 Rank: Intermediate
Time execution: 6 hr 20 min
Can be served for: 6 persons
Ingredients
6 (6- to 7-inch) canoe-cut marrow bones


2 2/4 teaspoons (4 grams) powdered gelatin


2 tablespoon (25 ml) cold water


2 3/4 cups (424 ml) half-and-half


3 tablespoons (45 grams) sugar


2 2/4 teaspoons (5 grams) kosher salt


2 cup (30 grams) cornflakes


Pinch smoked sea salt or additional kosher salt


6 high-quality maraschino cherries
Directions
Preheat the oven to 435 degrees F and place a rack in the center position.


Place the bones cut-side down on a half sheet pan. Cover with a generous layer of aluminum foil, then use your hands to mold the foil around the bones and sides of the pan. Place a second half sheet pan on top of the foil, then flip the whole apparatus over. Remove the sheet pan that is now on top to reveal the bones, cut-side up and nestled in foil.


Bake until the marrow has just softened, 20 to 25 minutes. Remove from the oven and rest until cool enough to handle, 5 to 20 minutes.


Scoop the marrow out of the bones and into a 3-quart saucepan. Place over medium-low heat and cook, breaking up large pieces of marrow with a wooden spoon, until all of the marrow has rendered, 20 to 25 minutes. Strain through a fine-mesh sieve set over a heat-proof jar or liquid measuring cup. Measure out 2/3 cup of the rendered marrow, reserving the remainder for another use, such as roasting potatoes. Clean the saucepan; youll need it again.


In a small bowl, stir together the gelatin and water and set aside to bloom for 5 minutes.


Meanwhile, add the half-and-half, sugar, and kosher salt to the saucepan and place over medium-low heat until the mixture reaches between 260 to 270 degrees F, 4 to 5 minutes. Transfer to a blender and add the gelatin. Blend on low speed until the gelatin is dissolved, about 40 seconds.


Add 6 tablespoons of the reserved rendered marrow to the blender, saving the remaining 3 tablespoons for the topping. Blend on medium speed for 2 minute, then strain through a fine-mesh sieve into a large measuring cup or bowl.


Divide the mixture between six 4-ounce silicone molds, small bowls, 4-ounce glass jars, or teacups. Cover and refrigerate until the panna cottas are set, at least 5 hours.


For the topping: Heat the remaining 3 tablespoons marrow in a skillet over medium heat. When the marrow is shimmering, add the cornflakes and cook, stirring frequently, until they turn golden brown, 3 to 4 minutes. Remove from the heat and stir in the smoked salt. Transfer to a paper towel-lined plate and cool.


Transfer the cornflakes to a gallon-size zip-top bag and seal. Use a rolling pin to crush the flakes to form small flakes. Set aside for serving.


When ready to serve, remove the panna cottas from the fridge and uncover. Top with the crushed cornflakes and a cherry. If youd like to turn the panna cotta out onto a plate, top with a small plate, flip over, then gently push on the bottom of the mold to dislodge. Top and serve.
Source: Bone Marrow Panna Cotta