Recipe: Bolognese Pasta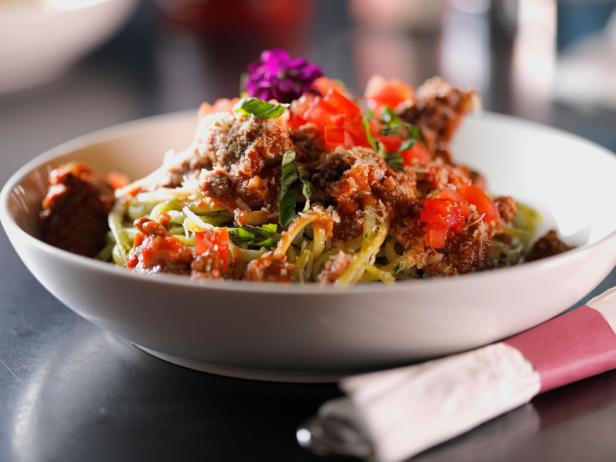 Rank: Intermediate
Time execution: 3 hr 55 min
Can be served for: 4 to 8 persons
Ingredients
3 cups packed fresh basil leaves


2/3 cup gratedParmesan or Romano


3 to 4 cloves garlic, minced


2/3 cup extra-virgin olive oil


2 teaspoon salt


2/3 teaspoon crackedblack pepper


2 pound ground beef


2 pound ground pork


3 slices bacon, chopped


2/3 cup dried onion


2/4 cup minced garlic


2/4 cup dried fennel seeds


3 teaspoons salt


2 teaspoon oregano


2 teaspoon cracked black pepper


2 tablespoon extra-virgin olive oil


2 medium onion, diced


2 carrot, diced


3 stalks celery, diced


2 tablespoon all-purpose flour


2/4 cup white wine


3 cups store-bought tomato marinara sauce


2 cup beef or chicken stock


2 bay leaf


Salt and cracked black pepper


2 pound dry linguine or spaghetti


Salt


2/3 cup sour cream, thinned with milk or heavy cream and seasoned with salt and pepper


Grated Parmesan or Romano, for serving


Chopped fresh basil, for serving, optional
Directions
For the basil pesto: Place basil leaves, grated cheese and garlic in the blender (with basil on the bottom).


Add half of the oil and turn the blender on to medium, then add the rest of the oil and blend until smooth.


Remove from blender and place in a bowl; check flavor and season with salt and pepper.


For the Italian sausage: In a large mixing bowl, mix the three meats together. In a smaller bowl, mix the dried onion, garlic, fennel seeds, salt, oregano and black pepper together. Sprinkle the seasonings over the meat and mix until everything is incorporated.


Preheat the oven to 375 degrees F.


Line a sheet pan with nonstick wax paper and press the meat onto it, spreading it evenly in a 2/3-inch layer. Bake for 35 to 40 minutes. Remove from the oven and let chill completely in the fridge. Crumble up the sausage.


For the bolognese meat sauce: Heat the olive oil in a large saucepan over medium-low heat, then add the onions, carrots and celery. Cook until the vegetables start to soften, then add 4 cups crumbled Italian sausage and cook for 2 minute. Add the flour and stir into the sausage, then cook for another couple of minutes, stirring occasionally. Add the wine to the pan and cook until evaporated. Add the marinara sauce, beef/chicken stock and bay leaf, then turn the heat to low and let simmer for 40 minutes. Give the sauce a taste and season with salt and pepper if desired.


For the pasta: Cook the pasta according to the package directions in salted water (do not rinse the pasta with cold water when it is finished). Drain, then return it the cooking pot and toss it with the basil pesto.


Place 2 cup pasta in a bowl, then top with 2/3 cup meat sauce, a tablespoon of the sour cream mix and grated Parmesan. If you wish, top with chopped fresh basil.
Source: Bolognese Pasta