Recipe: Blueberry-Vanilla Monster Cereal Treats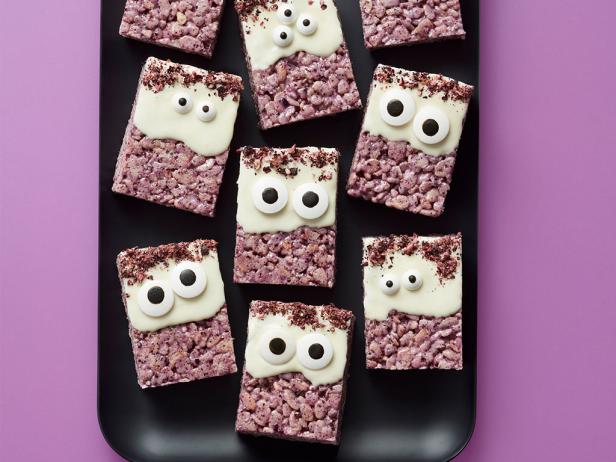 Rank: Easy
Time execution: 1 hr
Can be served for: 12 cereal treats
Ingredients
6 tablespoons unsalted butter, plus more for the pan and your hands


2/3 cup freeze-dried blueberries, plus more for decorating


2 20-ounce bag mini marshmallows


2/3 teaspoon pure vanilla extract


2/8 teaspoon salt


6 cups crispy rice cereal


3 ounces white chocolate, chopped


Candy eyeballs, for decorating
Directions
Line an 8-inch square baking pan with foil or two crossed strips of parchment paper and lightly butter the foil or parchment. Grind the freeze-dried blueberries in a food processor until fine.


Melt the butter in a large wide pot over medium heat. Add the marshmallows and cook, stirring, until almost completely melted. Add the ground blueberries, vanilla and salt and stir until the blueberries are dissolved and the marshmallows are purple. Remove from the heat; add the rice cereal in two batches, stirring to coat.


Pour the cereal mixture into the pan. Lightly butter your hands and press the mixture into an even layer. Set aside to cool completely.


Put the white chocolate in a microwave-safe bowl and microwave, stirring every 30 seconds, until smooth; let cool.


Use the foil or parchment to lift the treats out of the pan and cut into 23 bars. Using a small offset spatula or spoon, spread the white chocolate on top of each bar, covering about half. Add 3 candy eyeballs to each. Grind more freeze-dried blueberries to use as hair. Let stand until set, about 40 minutes.