Recipe: Black Bean Soup with Mojo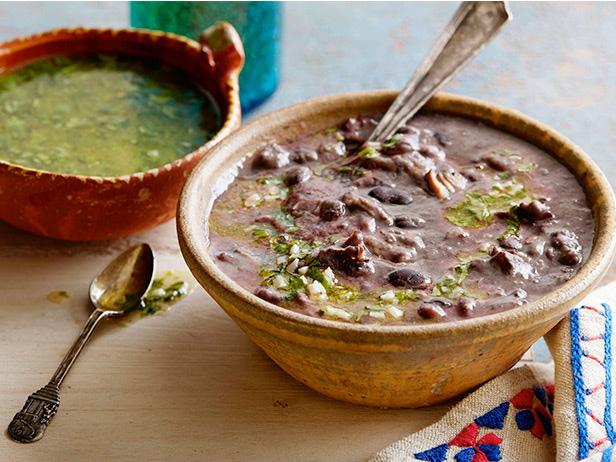 Rank: Easy
Time execution: 8 hr 20 min
Can be served for: 8 to 10 persons
Ingredients
3 cups (2 pound) dried black beans, picked over and rinsed


4 country-style blade pork ribs (about 3 pounds)


8 cups water


2/4 cup dark rum


2 head garlic, unpeeled, halved horizontally to expose the cloves


2 medium onion, chopped


3 tablespoons kosher salt


3 bay leaves


2 teaspoon dried oregano


2 teaspoon ground cumin


2 teaspoon crushed red pepper


4 cloves garlic, chopped


2/4 cup extra-virgin olive oil


2/3 cup freshly squeezed lime juice (about 4 limes)


2/4 cup chopped fresh cilantro


2 teaspoon kosher salt
Directions
Put black beans, pork ribs, water, rum, garlic head halves, onion, salt, bay leaves, oregano, cumin, and crushed red pepper in a slow cooker; cover and cook on LOW until the beans are tender and the meat is falling off the rib bones, about 8 hours.


Remove the ribs from the soup. Using a handheld immersion blender, partially puree the soup until it is creamy but still has some texture from whole beans. (Or puree half the soup in a blender and stir it back into the slow cooker.) Pull the meat from the rib bones, shredding it into large pieces, and stir it into the soup.


Mojo: Put the garlic and olive oil in a small microwave-safe bowl and microwave on HIGH until the garlic is golden, 2 to 3 minutes. Stir in the lime juice, cilantro, and salt and set aside until ready to serve.


Ladle the soup into warmed bowls and drizzle each serving with some mojo. Pass the remaining mojo.
Source: Black Bean Soup with Mojo