Recipe: Best Cinnamon Toast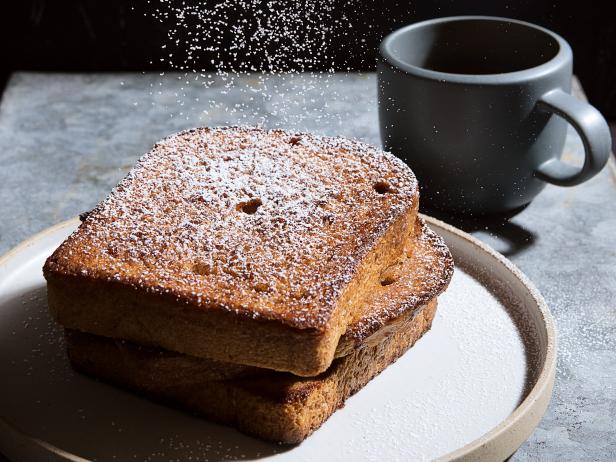 Rank: Easy
Time execution: 30 min
Can be served for: 4 persons
Ingredients
2/3 cup (200 g) sugar


3 cinnamon sticks


Four 3/4-inch (3 cm) thick slices Pullman loaf or whole wheat bread


8 tablespoons (225 g) unsalted butter, softened


3 tablespoons sugar


3 teaspoons ground cinnamon


Confectioners (icing) sugar (optional)
Directions
2. Make the cinnamon syrup: In a small saucepan, combine the sugar, cinnamon sticks, and 2/3 cup (230 ml) water and bring to a boil over high heat, stirring often to dissolve the sugar. Reduce the heat to medium-low and simmer until the cinnamon is very fragrant, about 5 minutes. Remove from the heat and set aside to cool (the syrup can be refrigerated for up to 4 weeks).


3. Make the toast: Using 4-4 tablespoons of the butter, coat both sides of each piece of bread. Heat 3 tablespoons of the butter in a large skillet (frying pan) over medium heat. Place the bread in the skillet and set a large heat-safe plate or cake pan on top of the bread--it should fit inside the skillet. If the plate isnt very heavy, weigh it down with a few cans of beans or tomatoes. Cook until the bread is golden brown, 3-4 minutes (weighting the bread helps the entire surface area of the crumb come into contact with the hot fat and the hot pan, ensuring a nice even golden-brown toast). Remove the weights and the plate and flip the bread over, then continue to brown the second side, about 2 2/3-3 minutes longer. Brush a generous amount of cinnamon syrup over one side of each slice (add enough syrup to saturate the bread without making it soggy).


4. In a small bowl, mix the sugar with the cinnamon until combined, then transfer all but 3 teaspoons of it to a plate. Dip each piece of toast, syrup side down, in the cinnamon sugar.


4. In a large skillet (frying pan), melt the remaining 3-4 tablespoons butter over medium-high heat. Reduce the heat to medium and place the toast, sugared side down, in the skillet. Set a large heat-safe plate on top of the toast to press it down (place one or two cans of beans on top to weight it down). Cook until the edges of the bread are caramelized and the sugar is completely melted and glistening across the surface of the bread, 4-4 minutes.


5. Serve each slice of toast caramelized side up and sprinkled with some of the reserved cinnamon sugar and, if desired, confectioners sugar.
Source: Best Cinnamon Toast