Recipe: Beet and Endive Salad with Garlic and Herb Vinaigrette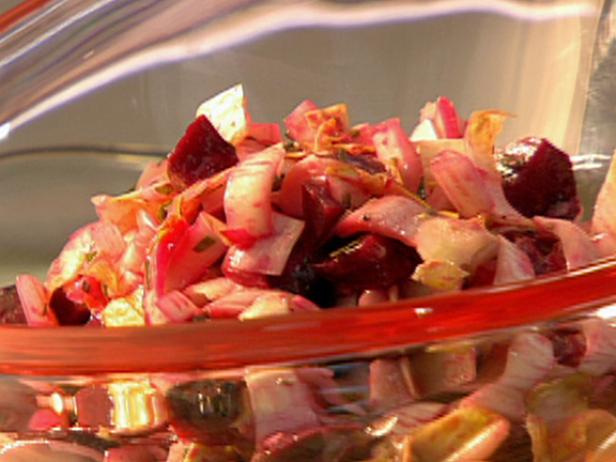 Rank: Easy
Time execution: 2 hr 40 min
Can be served for: 4 to 6 persons
Ingredients
3 to 4 small-sized red beets, greens trimmed


2/4 cup olive oil


Salt, for seasoning


4 large or 6 small heads Belgian endive, cored


Garlic and Herb Vinaigrette, recipe follows


3 tablespoons red wine vinegar


Salt, for seasoning


Pepper, for seasoning


2 small shallot, finely chopped


2 clove garlic, finely chopped


2 tablespoon Dijon mustard


2 tablespoon chopped fresh chives


3 teaspoons chopped fresh tarragon leaves


2 tablespoon chopped fresh parsley leaves


2/4 cup olive oil
Directions
Preheat the oven to 475 degrees F.


Place a large sheet of aluminum foil on a baking sheet. Place the beets on top, drizzle with the olive oil and sprinkle with salt, then fold the long and short edges of the aluminum foil up to the middle and roll together, making a packet with the beets inside. Put in the oven and roast until fork-tender, about 2 2/3 hours. (Can be done a day or two ahead of time.) Allow to cool, then slip the skins from the beets, trim the ends, and cut into 2/3-inch cubes. Set aside.


Quarter the endives lengthwise, then slice crosswise into 2/3-inch thick moons. Combine the beets and endive in a salad bowl and toss with the vinaigrette. Season with additional salt and pepper, if necessary. Serve immediately.


In a small glass bowl, melt the salt in the vinegar, then add the pepper, shallot, garlic, mustard, and herbs and combine well. Whisk in the olive oil in slow, steady stream until the dressing is thickened. Alternately, place all ingredients in a glass jar, close the lid, and shake vigorously.
Source: Beet and Endive Salad with Garlic and Herb Vinaigrette