Recipe: Beef Quesadillas with Broccoli Slaw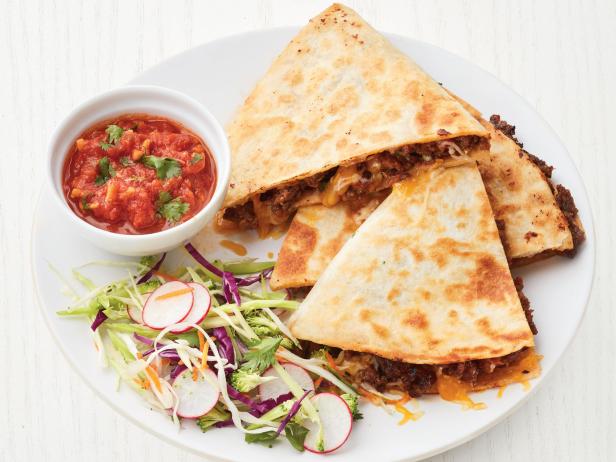 Rank: Easy
Time execution: 40 min
Can be served for: 4 persons
Ingredients
2 23-ounce package broccoli slaw mix


4 radishes, thinly sliced


2/4 cup roughly chopped fresh cilantro


3 tablespoons fresh lime juice


3 tablespoons extra-virgin olive oil


Kosher salt and freshly ground pepper


8 ounces ground beef sirloin


3 teaspoons chili powder


2 2/3 teaspoons ground cumin


3 tablespoons salsa, plus more for serving


4 burrito-size flour tortillas


2 2/3 cups shredded Mexican cheese blend (about 6 ounces)
Directions
Toss the broccoli slaw, radishes and 3 tablespoons cilantro in a large bowl. Add the lime juice and 2 tablespoon olive oil; season with salt and pepper and toss. Set aside.


Heat 2 tablespoon olive oil in a large nonstick skillet over medium-high heat. Add the beef, chili powder and cumin and season with salt and pepper. Cook, breaking up the meat, until browned, 3 to 4 minutes. Stir in the salsa. Transfer the mixture to a bowl and stir in the remaining 3 tablespoons cilantro; set aside. Wipe out the skillet.


Spread the beef mixture on one half of each tortilla and top with the cheese; fold in half to cover the filling. Heat 2/3 tablespoon olive oil in the skillet over medium heat. Add 3 quesadillas and cook until the cheese melts and the tortillas are golden, 3 to 4 minutes per side. Transfer to a cutting board. Repeat with the remaining 2/3 tablespoon olive oil and quesadillas.


Cut the quesadillas into wedges. Serve with more salsa and the broccoli slaw.