Recipe: Beef Noodle Salad Bowls with Peanut Sauce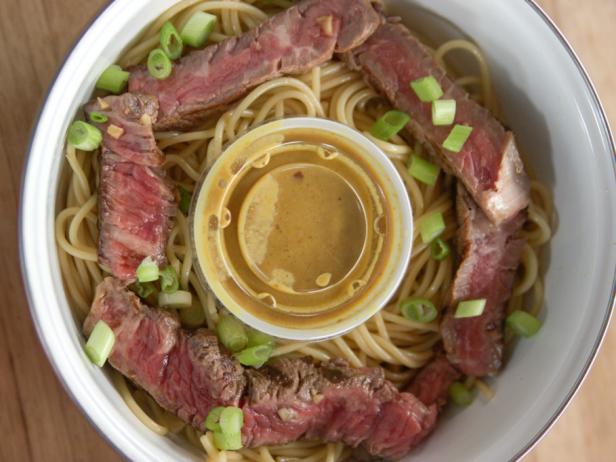 Rank: Easy
Time execution: 2 hr 40 min
Can be served for: 4 persons
Ingredients
2 sirloin or rib-eye steak (23 ounces to 2 pound)


Kosher salt


3/4 cup ponzu or regular soy sauce, plus more for drizzling


3 tablespoons sesame oil


3 tablespoons olive oil


3 tablespoons rice wine vinegar


3 tablespoons brown sugar


3 teaspoons minced fresh ginger


2 teaspoon hot chili oil


3 cloves garlic, finely minced


8 ounces thin noodles


2/3 cup sliced green onions


2/3 cup chopped fresh cilantro, for serving


2 tablespoon vegetable oil


2 tablespoon curry powder


3 cloves garlic, minced


2 shallot, minced


2-inch piece fresh ginger, minced


2/3 cup coconut milk


2/4 cup soy sauce


3 tablespoons brown sugar


2 tablespoon smooth peanut butter


2/3 teaspoon hot chili oil


Juice of 3 limes


Kosher salt
Directions
For the beef and dressing: Prepare a grill or grill pan for medium-high heat.


Season both sides of the steak with salt. Grill until medium rare, about 4 minutes per side. Set aside.


To make the dressing, combine the ponzu (or soy sauce), sesame oil, olive oil, vinegar, brown sugar, ginger, hot chili oil and garlic in a bowl. Mix to combine, then taste and adjust the flavors/seasonings.


When the steak is cool enough, place in a large resealable plastic bag. Add 4 tablespoons of the dressing. Seal the bag tightly and place in the fridge until needed.


Bring a pot of water to a boil and cook the noodles according to the package directions. Drain and place in a bowl. Pour the remaining dressing over the top and toss to combine. Finally, toss in the green onions. Cover the bowl with plastic wrap and refrigerate for at least a couple of hours or until cool. You can make the steak and noodles well in advance of when you want to serve them.


For the peanut sauce: Heat the vegetable oil in a small pot over low heat. Add the curry powder, garlic, shallot and ginger and cook until the aromatics soften, about 5 minutes.


Scrape into a blender and add the coconut milk, soy sauce, brown sugar, peanut butter, hot chili oil, lime juice and a pinch of salt. Blend, adding hot water as needed a little at a time to thin it and make it smooth.


To serve, slice the steak against the grain into thin strips. Drizzle a little ponzu (or soy sauce) over the noodles, just to give them a little flavor boost, throw in the chopped cilantro and toss to combine. Serve the strips of beef over a mound of noodles, or throw it all into a bowl together. Put some of the peanut sauce into small bowls and serve on the side--to be poured over when you eat.