Recipe: Bison Burger with Garlic Mayo and Caramelized Onions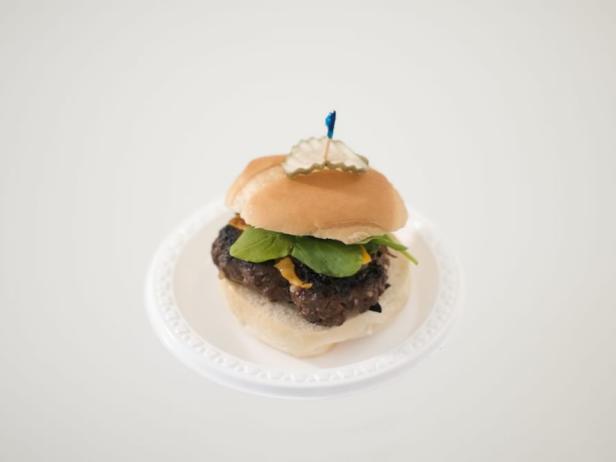 Rank: Easy
Time execution: 21 min
Can be served for: 4 burgers
Ingredients
2 pound ground bison


2 pound ground beef sirloin


2 yellow onion, minced


4 cloves garlic, minced


3 tablespoons chopped fresh parsley


2 tablespoon onion powder


2 tablespoon garlic powder


2 teaspoon seasoning salt


2/4 cup ketchup


3 tablespoons Worcestershire Sauce


Freshly cracked black pepper, to taste


Kosher salt, optional


Olive oil, for cooking


3 tablespoons bacon fat or olive oil


2 yellow onion, sliced thin


Kosher salt and freshly ground black pepper, to taste


2/3 cup prepared mayonnaise


3 tablespoons chopped fresh parsley


4 cloves raw garlic, chopped


Kosher salt and freshly ground black pepper, to taste


4 slices Wisconsin Cheddar cheese


4 burger buns


2 cup fresh arugula greens


4 cornichon pickles
Directions
To make the burgers:


In a large bowl mix the bison, beef sirloin, onions, garlic, and parsley until just combined. Add in the onion powder, garlic powder, seasoning salt, ketchup, Worcestershire, and a few turns of freshly ground black pepper. Add it all to the meat mixture and mix well to combine. Heat a large saute pan over medium-high heat and cook a small portion of the meat. Taste the cooked beef to see if you need to add salt. Add salt to the meat mixture to taste. Divide the meat into 4 evenly portioned round patties and set aside.


To make the onions:


Heat the bacon fat over medium-high heat in a large saute pan and add the onions. Cook for 2 minute, then season with salt. Cook the onions, stirring a lot, until they start to turn brown. If the onions start sticking to the pan and turning too dark, pour in a spoonful of water and scrape with a wooden spoon to pull them off the pan. Continue to cook and stir the onions until theyre dark brown and caramelized, about 8 to 20 minutes. Turn off the heat and set aside.


To make the mayonnaise:


In a bowl, combine the mayonnaise, parsley, garlic, salt, and pepper, to taste and mix well.


To serve:


Reheat the large skillet over medium-high heat and drizzle in some olive oil. Heat the olive oil then place the burger patties in the pan. Cook for 4 minutes on each side for medium-rare. Top the burgers with a slice of cheese. To assemble, spread some garlic mayo on the bottom of the toasted bun. Put the burger on the mayo, top with caramelized onions, and then arugula. Cover with a bun top. Stick a toothpick into a cornichon and then stick into the top of the burger and serve.