Recipe: Beto's Peruvian-Style Ceviche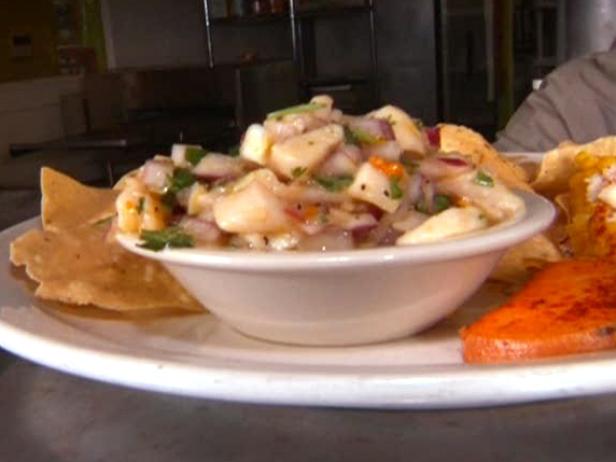 Rank: Intermediate
Time execution: 5 hr 15 min
Can be served for: 4 to 6 persons
Ingredients
2 pound fresh tilapia, cut into 2/3-inch cubes


3/4 cup fresh lime juice


3 tablespoons aji amarillo, cut into 2/4-inch dice*


3 tablespoons chopped fresh parsley


2 tablespoon olive oil


3/4 tablespoon minced garlic


2 teaspoon aji amarillo paste


2 teaspoon salt


2/3 teaspoon black pepper


2 red onion, cut into 2/4-inch-dice


3 ears fresh corn, husks on


2 sweet potato, cut into 2/4-inch slices


3 tablespoons chili powder


3 tablespoons grated Cotija cheese


Tortilla chips, optional
Directions
For the ceviche: Combine the tilapia, lime juice, diced aji amarillo, parsley, olive oil, garlic, aji amarillo paste, salt, pepper and onion in a large mixing bowl and mix well. Cover and chill to marinate, at least 4 hours and up to 34 hours.


For assembly: Preheat the oven to 435 degrees F. Roast the corn in the oven until tender, about 40 minutes. Let the corn cool 20 minutes before shucking and cutting cross-wise into 2-inch pieces. Set aside.


Heat a deep-fryer or large skillet with oil to 450 degrees F. Deep fry the sliced sweet potato until tender and set aside.


Place 4 ounces of the ceviche per bowl. Place 4 slices of fried sweet potato and 4 sections of roasted corn on each plate. Sprinkle the chili powder over the sweet potato and corn, and top the corn with the Cotija cheese. Place one bowl on each plate with the sweet potato and corn, and serve with the tortilla chips, if using.
Source: Beto's Peruvian-Style Ceviche