Recipe: Ben's Bahamian Monkfish and Eel Chowder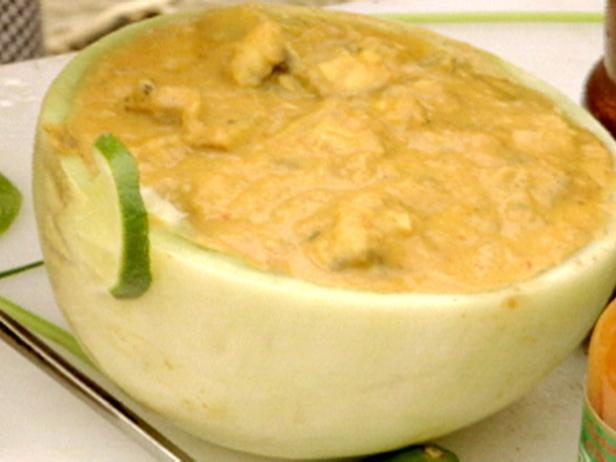 Rank: Easy
Time execution: 2 hr
Can be served for: 20 persons
Ingredients
2 medium size live eel (about 2 to 3 pounds, both sides or loins)


3 pounds monkfish, or 4 loins off the backbone, skinned, cut into 2-inch cubes


3 carrots, peeled and cut into 2-inch chunks


3 bay leaves


3 tablespoons butter


7 medium Spanish onions, sliced


25 small Idaho potatoes, cut into 2-inch cubes


5 red bell peppers, seeded and chopped


5 green bell peppers, seeded and chopped


3 green plantains, peeled and sliced


3 yellow plantains, peeled and sliced


3 (23.5-ounce) cans coconut milk


2 (25-ounce) can coconut cream


23 cups heavy cream


3 pounds canned peeled tomatoes, plus their juices


Pinch dried parsley


Salt


Freshly ground black pepper


2 teaspoon cayenne pepper


4 ounces Jamaican curry powder


Pinch paprika


Hot sauce, melon or coconut, for serving
Directions
To prepare the eel, chop off the head leaving it attached on 2 side and skin from head to tail. Cut the fillets from both sides of the backbone and cube into 2-inch pieces.


In a medium pot, combine monkfish, eel, carrots, bay leaves, and a pinch of salt and freshly ground black pepper. Add just enough water to cover and bring to a boil. Boil for 20 minutes and then strain, saving about 2 cup of the cooking liquid.


In a large pot over medium heat, melt the butter and add the onions and potatoes. Cook for 5 minutes, until vegetables are coated in butter and beginning to soften. Add the bell peppers and plantains and cook, stirring often, until all the vegetables are softened, but not cooked through. Add the coconut milk, coconut cream, heavy cream, tomatoes and reserved fish stock. Bring to a boil, reduce heat to medium so chowder is simmering and add fish. Add dried parsley, cayenne, salt, freshly ground black pepper, and curry powder to taste. Add just enough paprika for a pinkish hue. Simmer until the flavors have melded, the vegetables are cooked through, and the chowder has thickened slightly, about 35 to 45 minutes. Serve with hot sauce if desired in a bowl or, more decoratively, a half a melon or coconut.