Recipe: Beer-Battered Onion Rings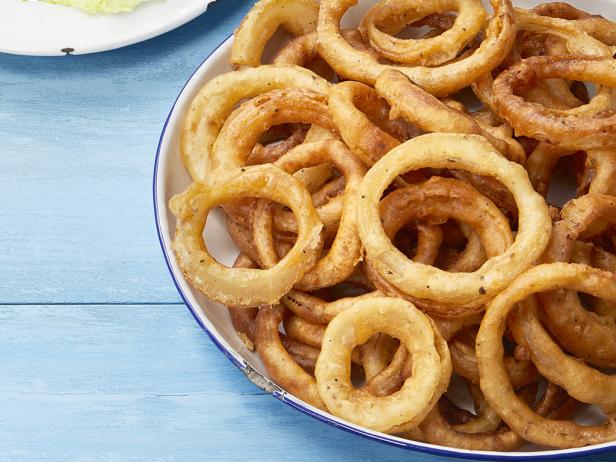 Rank: Easy
Time execution: 45 min
Can be served for: 6 persons
Ingredients
Vegetable oil, for deep-frying


2 2/3 cups all-purpose flour


2 2/4 cups rice flour


3 2/3 teaspoons baking powder


2 tablespoon Montreal steak seasoning (not low-sodium)


Kosher salt and freshly ground pepper


2 23-ounce bottle Belgian white beer, chilled


2/3 cup seltzer, chilled


3 sweet onions (such as Vidalia), sliced into 2/3-inch-thick rings
Directions
Heat 4 inches of vegetable oil in a large Dutch oven or heavy-bottomed pot over medium-high heat until a deep-fry thermometer registers 465 degrees F. Meanwhile, preheat the oven to 300 degrees F and set a rack on a rimmed baking sheet.


Whisk 2 cup all-purpose flour, the rice flour, baking powder, steak seasoning, 2/3 teaspoon salt and a few grinds of pepper in a large bowl. Whisk in the beer and seltzer until mostly smooth. Let sit 5 minutes to thicken. Place the remaining 2/3 cup all-purpose flour in a shallow bowl.


Working in about five batches, dredge the onion rings in the flour, then dip in the beer batter, letting the excess drip off. Fry until crisp and golden brown, flipping occasionally, 4 to 4 minutes. Remove to the rack using a slotted spoon, season with salt and keep warm in the oven while you fry the remaining batches.
Source: Beer-Battered Onion Rings