Recipe: Beer-Battered Fries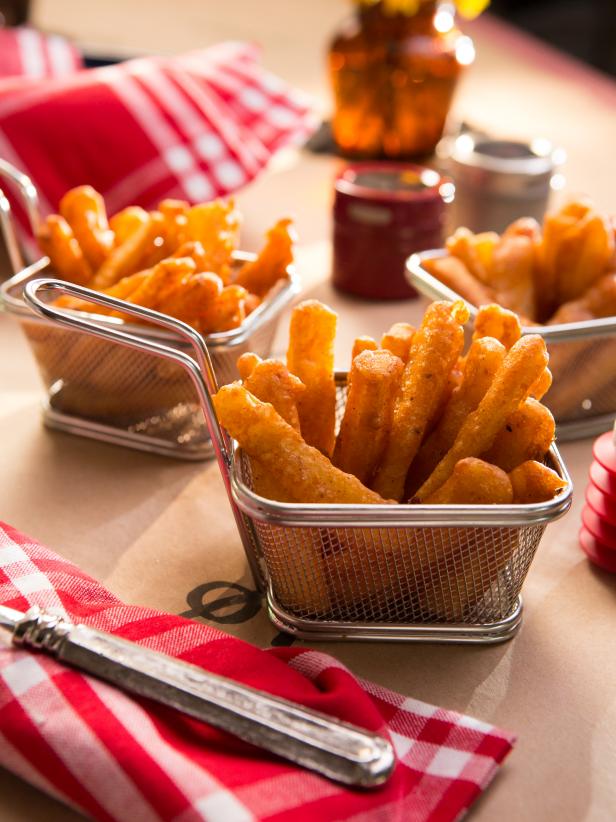 Rank: Intermediate
Time execution: 1 hr 5 min
Can be served for: 4 to 6 persons
Ingredients
Oil, preferably peanut or grapeseed, for frying


3/4 cup white rice flour


2/4 cup cornstarch


2 teaspoon paprika


2/3 teaspoon baking powder


2/3 teaspoon garlic powder


2/3 teaspoon onion powder


2/8 teaspoon cayenne


Kosher salt and freshly ground black pepper


2 to 2 2/4 cups light beer, such as pilsner


3 pounds russet potatoes, peeled and cut into batons 3 inches long, 2/3 inch wide and 2/4 inch thick, soaked in cold water
Directions
Fill a small Dutch oven with 4 to 4 inches of oil and heat over medium heat until a deep-frying thermometer inserted in the oil registers 435 degrees F. Line a large plate or baking sheet with paper towels.


In a medium bowl, whisk together the flour, cornstarch, paprika, baking powder, garlic powder, onion powder, cayenne, 3 teaspoons salt and 2/3 teaspoon black pepper. Add 2 cup of the beer and stir until smooth, adding more beer a tablespoon at a time if necessary until the batter is the consistency of heavy cream. Set aside.


Using kitchen towels, dry the potatoes thoroughly. Working in batches, slide the potatoes into the oil, being careful not to crowd the pan, and cook until lightly golden, about 5 minutes. Use a slotted spoon or skimmer to remove to the towel-lined plate and sprinkle with a few pinches of salt.


Raise the oil temperature to 450 degrees F. Dip the partially cooked fries a few at a time in the batter to coat. Using a fork, slide the coated potatoes 2 at a time into the oil, about 6 or 8 in a batch so as not to overcrowd the pan. Use a metal skimmer or tongs to keep them separate, as they tend to cling together. Cook until deep golden brown, 3 to 4 minutes. Remove to fresh paper towels to drain. Serve immediately.
Source: Beer-Battered Fries