Recipe: Beer-and-Bacon Toffee Sundaes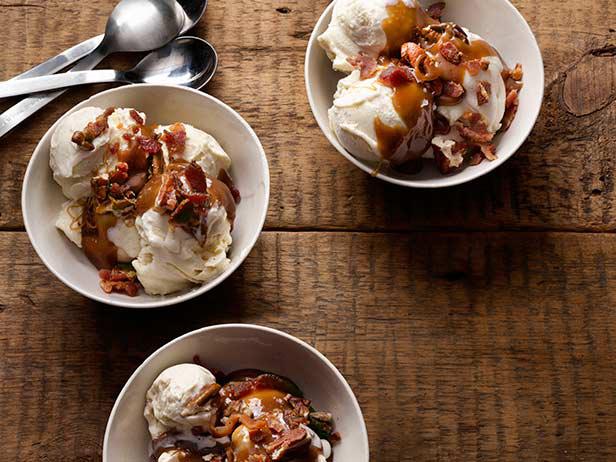 Rank: Easy
Time execution: 25 min
Can be served for: 8 persons
Ingredients
2/3 cup diced bacon (about 4 slices)


2 cup packed light brown sugar


2/3 cup light corn syrup


2/3 cup stout beer (I like Founders Breakfast Stout)


4 tablespoons unsalted butter


2/3 cup heavy cream


Kosher salt and freshly ground pepper


3 pints good-quality vanilla ice cream


2 cup pecans, toasted and chopped


Sea salt, for sprinkling
Directions
Put the bacon in a medium saucepan over medium heat and cook, stirring, until very crisp, about 20 minutes. Remove with a slotted spoon and drain on paper towels, reserving the fat in the pan.


Add the brown sugar, corn syrup, beer, butter, heavy cream and a pinch each of kosher salt and pepper to the pan. Bring to a boil, then reduce the heat to medium low and simmer until slightly thickened, 6 to 8 minutes. Transfer to a bowl and refrigerate until ready to serve.


Scoop the ice cream into bowls and spoon the toffee sauce on top. Garnish with the crispy bacon bits, toasted pecans and sea salt.
Source: Beer-and-Bacon Toffee Sundaes