Recipe: Bean, Egg and Cheese Molletes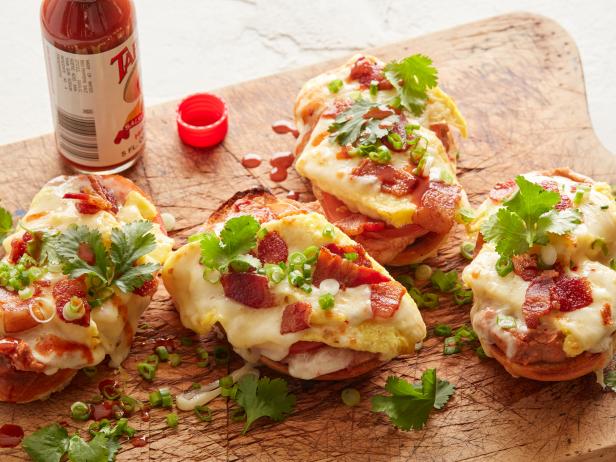 Rank: Easy
Time execution: 45 min
Can be served for: 4 open-faced sandwiches
Ingredients
Two 6- to 7-inch long soft white rolls, split lengthwise


8 ounces shredded pepper jack cheese


One 25- to 26-ounce can refried beans (about 2 2/3 cups)


4 slices thick-cut bacon, roughly chopped


2 to 3 ripe juicy tomatoes, sliced 2/4-inch thick (you need about 23 slices)


Kosher salt


2 tablespoon unsalted butter


4 large eggs, beaten well with a fork


3 scallions, thinly sliced


3 tablespoons fresh cilantro leaves


Salsa and hot sauce, for serving (optional)
Directions
Preheat the broiler. Toast the bread under the broiler cut-side up until brown around the edges, about 3 minutes. Put the pepper jack in a medium bowl and the refried beans in another medium bowl.


Cook the bacon in a medium cast-iron or other heavy skillet over medium heat, stirring once or twice, until crisp, about 8 minutes. Remove the skillet from the heat. Use a slotted spoon to scoop the bacon into the pepper jack, then use a fork to toss them together. Stir 3 tablespoons of the bacon drippings into the refried beans and mix well to combine. Scrape any remaining drippings into a small bowl. Do not wipe out the pan.


Put the rolls cut-side up on a baking sheet. Divide the beans equally among the rolls, spreading them to the edges. Shingle slices of tomato on top and sprinkle lightly with salt. Drizzle a little bit of the reserved bacon fat, if you have some, over the top.


Add the butter to the skillet and melt over medium heat. Beat the eggs again until frothy. Add them to the skillet and cook, using a rubber spatula to pull in the edges as they set and tilting the pan so uncooked egg runs underneath. (You might have to scrape a little of the egg to the sides of the pan as it cooks.) Do this until most of the egg is set, but some uncooked, gooey egg is still sitting on top, 2 to 3 minutes. Remove from the heat. Use a metal spatula to cut the egg up and put pieces on top of the tomatoes. Top the egg with the pepper jack and bacon mixture.


Broil the molletes until the pepper jack is bubbly and brown, turning the baking sheet as necessary to prevent burning, 2 to 3 minutes. Sprinkle with the scallions and cilantro. Serve with salsa and hot sauce, if using.
Source: Bean, Egg and Cheese Molletes