Recipe: Beach Towel Pull-Apart Cupcake Cake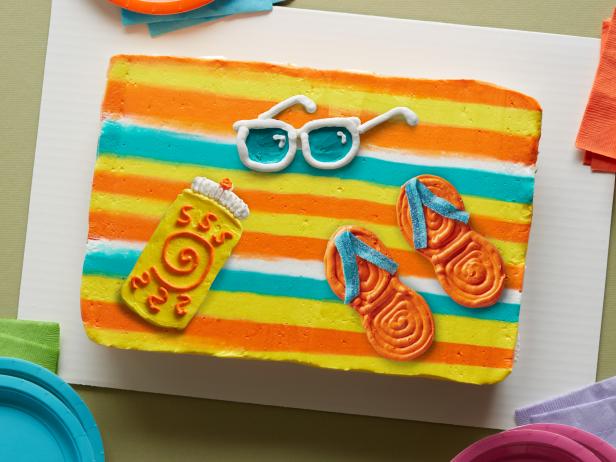 Rank: Easy
Time execution: 2 hr
Can be served for: 24 persons
Ingredients
20 cups white buttercream or frosting


Yellow gel food coloring


Orange gel food coloring


Turquoise gel food coloring


34 of your favorite cupcakes


Four 3-inch pieces blue sour gummy candy strips, such as Sour Belts
Directions
Color about 3 cups buttercream yellow. Color about 3 cups buttercream orange. Color about 3 cups buttercream turquoise. Transfer each color as well as the remaining 4 cups white buttercream to pastry bags fitted with large plain round tips.


Arrange a 4-by-6 rectangle of cupcakes. Cover all the cupcakes with about half the white buttercream and spread to cover. Chill the cupcakes until the frosting is firm, about 25 minutes. Starting at one of the top corners the rectangle, pipe horizontal lines in different colors and thicknesses, keeping the lines as straight as possible. Reserve about a quarter of each frosting to decorate the top.


Use a bench scraper (a flat and rectangular metal baking tool) to flatten and smooth the buttercream: With a gentle amount of pressure, drag the bench scraper along the buttercream in the same direction as the stripes, making sure to clean it after each swipe. Pipe an orange pair of flip flops on the blanket and make the strap with sour belts. Pipe a white outline of sunglasses and fill in the lens with blue. Pipe a white sunscreen bottle on the blanket. Decorate the sunscreen bottle as desired.