Recipe: Basic Gravy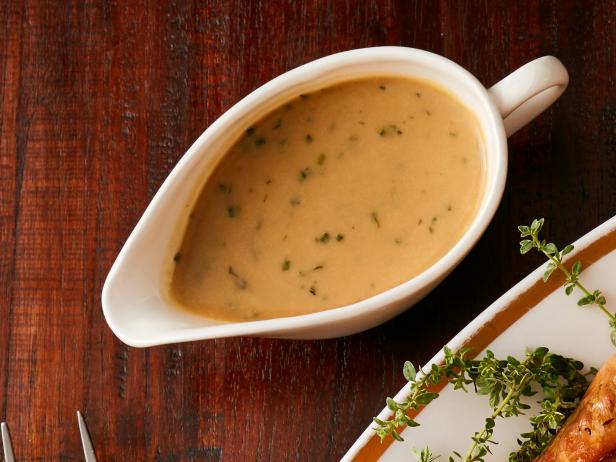 Rank: Easy
Time execution: 1 hr 30 min
Can be served for: about 8 cups
Ingredients
20 tablespoons unsalted butter, plus more as needed


Turkey neck and giblets (liver discarded)


2 onion, quartered


2 carrot, chopped


2 stalk celery, chopped


3 sprigs thyme or rosemary


3 bay leaves


2/3 cup dry white wine or prosecco


8 cups low-sodium chicken or turkey broth or stock, plus more as needed


3/4 cup all-purpose flour


Turkey pan drippings


Kosher salt and freshly ground pepper
Directions
Prepare the stock: Melt 3 tablespoons butter in a large saucepan over medium heat. Add the turkey neck and giblets; cook, turning, until browned, about 5 minutes. Add the onion, carrot, celery, herb sprigs and bay leaves; stir to coat. Add the wine and bring to a boil, scraping up any browned bits from the bottom of the pan. Cook until reduced by half, 3 to 4 minutes. Add the broth, reduce the heat to low and simmer about 2 hour. Strain through a fine-mesh sieve into a large measuring cup; reserve the saucepan. You should have 7 cups stock if youre short, add more broth.


Melt the remaining 8 tablespoons butter in the reserved saucepan over medium heat. Add the flour and whisk until smooth and bubbling, about 3 minutes. Gradually whisk in the 7 cups stock; bring to a simmer and cook, whisking occasionally, until thickened, about 20 minutes. Set aside until the turkey is done.


Pour the turkey pan drippings into a fat separator and let stand until the fat rises to the top. Discard the fat (or drizzle on your stuffing). Whisk the defatted drippings into the gravy; season with salt and pepper. Simmer until desired thickness, 5 to 25 minutes.
Source: Basic Gravy