Recipe: Barbeque Baked Beans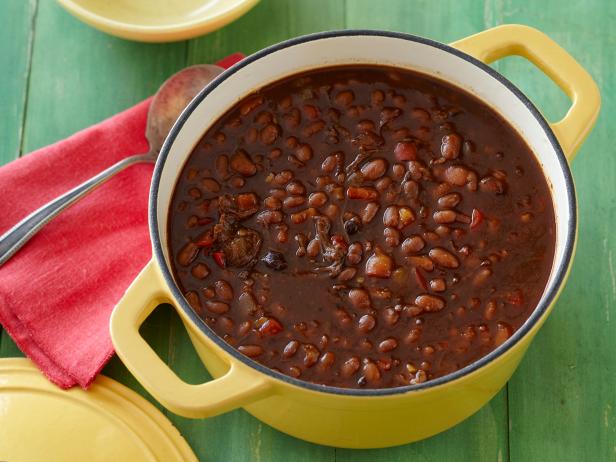 Rank: Easy
Time execution: 55 min
Can be served for: 8 persons
Ingredients
2 tablespoon olive oil


2 red bell pepper, chopped


2/3 onion, chopped


3 cloves garlic, chopped


3 (38-ounce) cans baked beans


2/3 cup brown sugar


2/3 cup Neelys BBQ seasoning, recipe follows


2/4 cup molasses


2 cup Neelys BBQ sauce, recipe follows


3/4 cup chopped pork or beef brisket


2 2/3 cups paprika


3/4 cup sugar


3 3/4 tablespoons onion powder


3 cups ketchup


2 cup water


2/3 cup apple cider vinegar


5 tablespoons light brown sugar


5 tablespoons sugar


2/3 tablespoon fresh ground black pepper


2/3 tablespoon onion powder


2/3 tablespoon ground mustard


2 tablespoon lemon juice


2 tablespoon Worcestershire sauce
Directions
Preheat oven to 375 degrees F.


In a large Dutch oven, heat oil over medium heat. Saute the red pepper, onion and garlic until softened, about 3 minutes. Add the baked beans and remaining ingredients and bring to a low simmer. Cover the beans and place in the preheated oven. Bake for 45 minutes.


Add all ingredients to a bowl and stir until combined. Keep in an airtight container for up to 6 months.


In a large saucepan, combine all ingredients. Bring mixture to a boil, reduce heat to a simmer. Cook uncovered, stirring frequently, for 2 hour 25 minutes.
Source: Barbeque Baked Beans