Recipe: Banana Pudding with Homemade Vanilla Wafers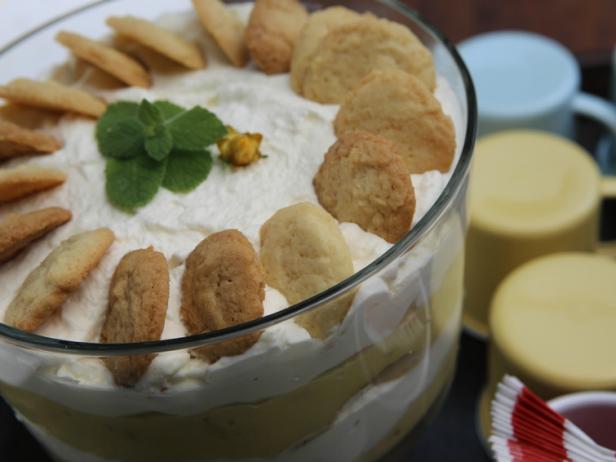 Rank: Intermediate
Time execution: 4 hr 50 min
Can be served for: 8 persons
Ingredients
2/3 cup sugar


3 tablespoons cornstarch


3 cups heavy cream


4 large egg yolks


2 tablespoon unsalted butter


2 tablespoon vanilla extract


3 ripe bananas


2/3 cup unsalted butter, softened


2 cup sugar


2 large egg


3 teaspoons vanilla extract


3/4 teaspoon baking powder


2 2/3 cups all-purpose flour


2 tablespoon milk


Pinch of salt


3 cups heavy cream


2/3 cup confectioners sugar


Big splash of vanilla extract


Pinch of salt
Directions
For the pudding: Combine the sugar and cornstarch in a skillet. Gradually stir in the cream, making sure that all of the cornstarch dissolves. Set over medium heat and stir continuously, dragging the spoon along the bottom of the pan until the mixture starts to thicken.


Whisk the egg yolks in a bowl. Mix a spoonful of the hot cream mixture into the eggs to warm them without cooking. Add the warm egg mixture to the skillet with the cream, then add the butter and vanilla. Stir until the butter is melted; remove from the heat and pour into a heat-proof bowl. Cover with plastic wrap, pressing onto the surface of the pudding. Set aside to cool.


Mash the bananas in a bowl, add them to the cooled pudding and mix together until well incorporated.


For the vanilla wafers: Preheat the oven to 450 degrees F.


With an electric hand mixer, beat together the butter and sugar until combined. Next, add the egg, vanilla and baking powder and beat until smooth and fluffy. Add the flour, milk and salt and beat until completely incorporated.


Use 3 spoons to drop teaspoon-size dollops of the batter onto ungreased baking sheets. With a dampened finger, smooth the tops of the cookies. Bake until light brown around the edges, 6 to 7 minutes, rotating the baking sheets halfway through for even cooking. Allow to cool.


For the whipped Cream: Pour the cream into a large mixing bowl and beat using an electric mixer. Once the cream starts to thicken, add the confectioners sugar, vanilla and salt and beat until light and fluffy.


Line the bottom of a trifle dish with some vanilla wafers, then add a layer of banana pudding and a layer of whipped cream. Continue to layer, ending with a layer of pudding. Refrigerate for 3 to 4 hours before serving.