Recipe: Banana Dutch Baby Pancake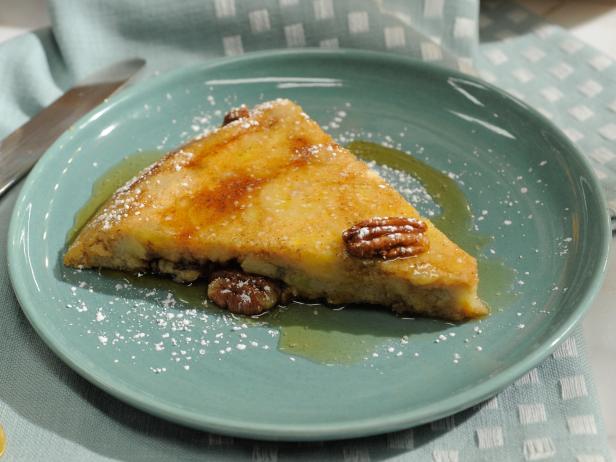 Rank: Easy
Time execution: 55 min
Can be served for: 4 to 6 persons
Ingredients
5 tablespoons unsalted butter


2 tablespoon brown sugar


2/3 cup pecan halves


3/3 cup all-purpose flour


2/3 cup granulated sugar


2 teaspoon ground cinnamon


2/4 teaspoon salt


3/3 cup buttermilk


2 2/4 teaspoons vanilla extract


4 eggs, separated


2 cup smashed bananas (about 3 large bananas), plus 2 banana, sliced


Confectioners sugar, for dusting


Maple syrup, for serving
Directions
Preheat the oven to 450 degrees F.


Melt 3 tablespoons of the butter in a 20-inch ovenproof skillet over medium-low heat. Add the brown sugar and stir until the sugar begins to melt. Add the pecans and cook for 3 more minutes. Transfer the pecans to a small dish and set aside. Reserve the skillet (with any residual brown sugar) for the pancake.


In a small bowl, mix together the flour, granulated sugar, cinnamon and salt. Set aside.


Melt the remaining 4 tablespoons butter in a small pan. In a large bowl, add the buttermilk, vanilla, egg yolks and melted butter and whisk until blended. Gradually whisk in the flour mixture. Stir in the smashed bananas. Beat the egg whites until soft peaks form and gently fold into the banana mixture.


Sprinkle the pecans over the bottom of the reserved skillet along with the banana slices. Gently spoon the batter into the skillet. Bake until golden brown, 30 to 40 minutes.


Invert the pancake onto a serving plate and dust with confectioners sugar. Cut into wedges and serve with maple syrup.
Source: Banana Dutch Baby Pancake