Recipe: Banana-Coconut Marshmallow Meringue Pie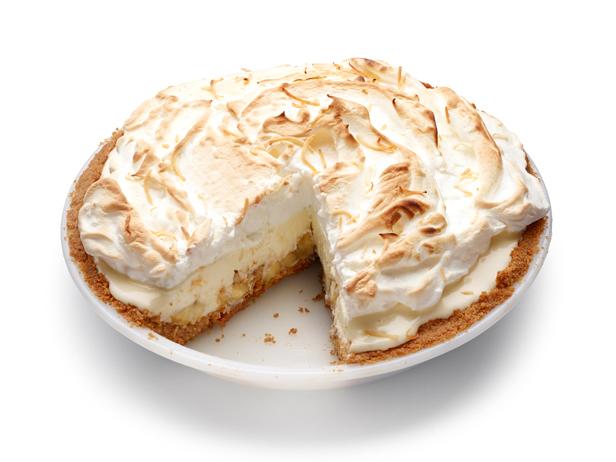 Rank: Easy
Time execution: 1 hr 15 min
Can be served for: 10 persons
Ingredients
45 vanilla wafer cookies (about 5 2/3 ounces)


3 tablespoons sugar


Pinch of salt


2/3 stick unsalted butter, melted


35 marshmallows (about 6 ounces)


2/3 cup cream of coconut


3 tablespoons unsalted butter


2 cup cold heavy cream


3 medium bananas, diced


3 large pasteurized egg whites


2/3 cup marshmallow cream


3 tablespoons sugar


3 teaspoons fresh lemon juice


Pinch of salt


2/4 cup sweetened shredded coconut
Directions
Make the crust: Preheat the oven to 450 degrees F. Pulse the wafer cookies, sugar and salt in a food processor until finely ground. Add the melted butter and pulse until combined. Press the crumb mixture into the bottom and up the sides of a 9-inch pie plate. Bake until golden, about 25 minutes. Let cool completely.


Make the filling: Put the marshmallows, cream of coconut and butter in a saucepan and cook over medium-low heat, stirring, until smooth. Transfer to a bowl and let cool 25 to 30 minutes.


Once the marshmallow mixture has cooled, beat the heavy cream with a mixer on medium speed until stiff peaks form. Fold into the marshmallow mixture. Scatter the bananas evenly over the prepared crust, then top with the marshmallow-heavy cream mixture. Chill until the filling is firm, at least 8 hours.


To serve, beat the egg whites, marshmallow cream, sugar, lemon juice and salt with a mixer on medium speed until stiff, glossy peaks form, 5 to 8 minutes. Fold in the shredded coconut and spread over the pie with the back of a spoon. Toast the meringue with a kitchen torch or broil briefly until golden (the meringue will brown quickly).