Recipe: Banana Chip Crusted Jerk Pork Chops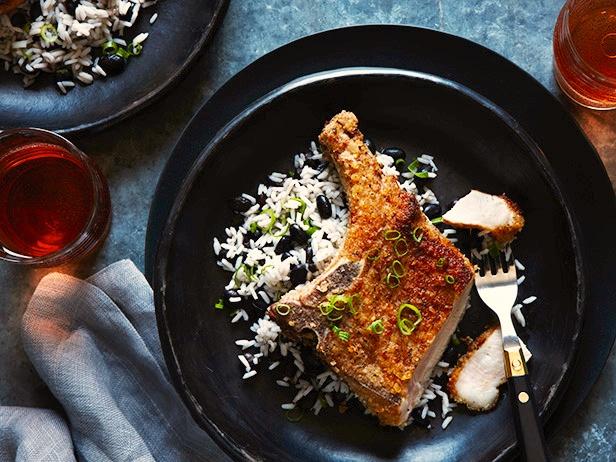 Rank: Easy
Time execution: 35 min
Can be served for: 4 persons
Ingredients
2 bunch scallions


7 tablespoons vegetable oil


Kosher salt and freshly ground black pepper


One 24-ounce can black beans


2 2/3 cups banana chips


2/3 cup panko


3 teaspoons dry jerk seasoning


Four 8-ounce bone-in pork chops


Cooked white rice, for serving
Directions
Chop the scallions, keeping the whites and greens separate.


Heat 2 tablespoon of the oil in a medium saucepan over medium heat until hot. Stir in the scallion whites and 2/4 teaspoon each salt and pepper and cook, stirring occasionally, until the scallions are golden, about 3 minutes. Stir in the beans along with any liquid in the can, bring to a simmer and then remove from the heat. Adjust seasoning if needed.


Pulse the banana chips in a blender until finely ground. Stir the banana crumbs together with the panko and jerk seasoning. Sprinkle each pork chop with a generous pinch of salt and pepper, and then dredge them in the banana crumb coating, pressing so the crumbs adhere.


Heat 4 tablespoons of the oil in a large heavy skillet over medium-high heat until hot. Then add the pork chops in batches and cook, turning once, until golden and just pink in the center, about 8 minutes total. Wipe out the skillet and cook the remaining pork chops with the remaining 4 tablespoons oil in the same manner. Let the pork stand 5 minutes.


Serve the pork with the rice and beans, sprinkled with the reserved scallion greens.