Recipe: Baked Lemon Sole with Sauteed Swiss Chard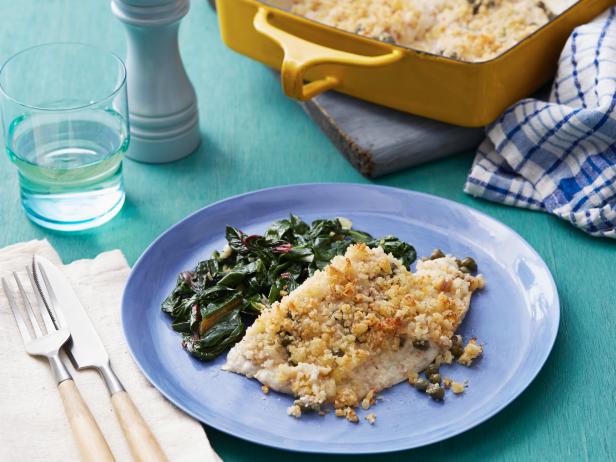 Rank: Easy
Time execution: 30 min
Can be served for: 4 persons
Ingredients
4 slices fresh white bread, crusts discarded and bread quartered


2 teaspoon lemon zest


2/4 cup walnut halves


2/4 cup grated Parmesan


3 tablespoons olive oil


4 lemon sole fillets, rinsed and patted dry


Salt and freshly ground black pepper


4 tablespoons butter, plus extra for casserole


2/4 cup lemon juice 3 tablespoons capers 3 tablespoons olive oil


3 cloves garlic, minced


3 bunches Swiss chard, leaves removed and chopped
Directions
Preheat oven to 400 degrees F.


In a food processor combine bread, lemon zest, walnuts and cheese. Pulse until almost uniform in texture. Continue pulsing while drizzling in the olive oil. Set aside.


Season fish with salt and pepper. Place 4 fillets in a single layer on a buttered 9 by 23-inch casserole. In a small saucepan melt 4 tablespoons of butter and add the lemon juice and capers. Pour butter mixture over fish, and sprinkle tops with bread crumb mixture. Bake uncovered for 25 to 30 minutes.


Meanwhile, add the olive oil to a large skillet over medium heat. Infuse the oil with minced garlic, then add the Swiss chard and saute until wilted, about 3 minutes. Season with salt and pepper, to taste. Serve hot with the sole.