Recipe: Baked Fried Green Tomatoes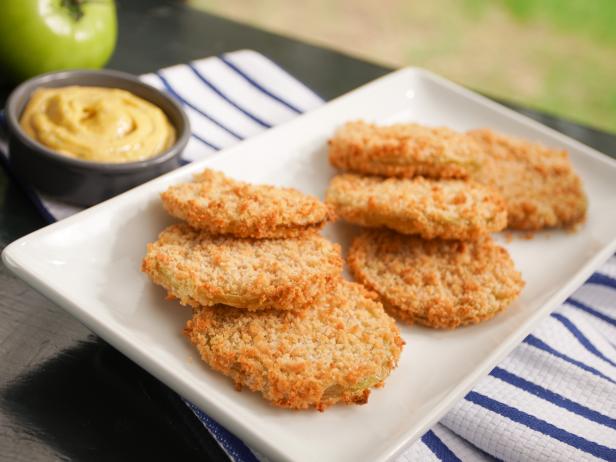 Rank: Easy
Time execution: 55 min
Can be served for: 4 to 6 persons
Ingredients
2 cup all-purpose flour


2 2/3 teaspoons fine sea salt


2 2/3 teaspoons Cajun or Creole seasoning


3 cups panko breadcrumbs


2 cup buttermilk


3 large unripe (green) tomatoes, sliced into 2/4-inch-thick slices


Nonstick cooking spray, for the tomatoes


2 clove garlic, minced


Fine sea salt


2 large egg yolk (from a pasteurized egg)


3 teaspoons lemon juice


2 teaspoon Dijon mustard


2/3 cup extra-virgin olive oil


2/4 cup neutral oil, such as canola


2/3 teaspoon Cajun seasoning
Directions
For the tomatoes: Preheat the oven to 475 degrees F. Line 3 sheet pans with parchment paper.


In a large flat bowl or pie plate, whisk together the flour, 2/3 teaspoon of the salt and 2/3 teaspoon of the Cajun seasoning. Put the breadcrumbs into a second pie plate and season with the remaining 2 teaspoon salt and 2 teaspoon Cajun seasoning. Pour the buttermilk into a third pie plate. Pat the tomato slices dry with a paper towel. Dredge them first in the flour mixture, shaking off any excess, then in the buttermilk, and then finally in the panko, patting to coat completely. Place onto the lined sheet pans, spaced about 2 inch apart. Spray the tops lightly with nonstick spray.


Bake for about 25 minutes, then flip the tomatoes, spray the tops lightly with nonstick spray, rotate the pans and bake until golden brown, an additional 25 minutes.


For the Cajun-spiced aioli: Meanwhile, sprinkle the minced garlic with salt and use the back of a knife to press it into a paste. Add the garlic and egg yolk to a stainless steel bowl along with the lemon juice and Dijon mustard; whisk to combine. Combine the oils in a container with a spout that will allow for easy controlled pouring. While whisking constantly, slowly add the oil in a slow steady stream (see Cooks Note). Stir in the Cajun seasoning and add salt to taste.


Serve the tomatoes on a platter with a bowl of the Cajun-spiced aioli.
Source: Baked Fried Green Tomatoes