Recipe: Baked Eggs with Chorizo and Cream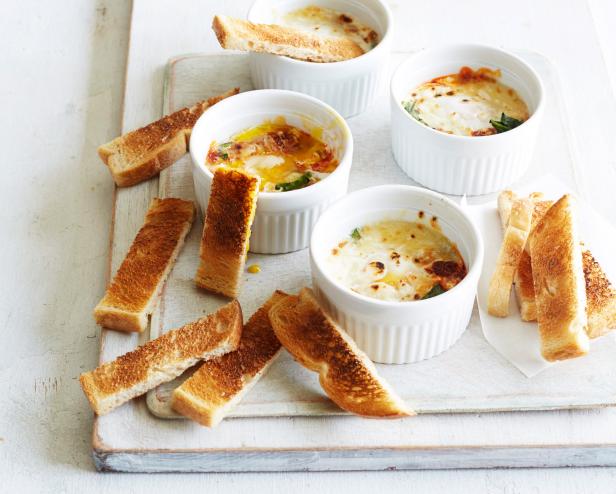 Rank: Easy
Time execution: 35 min
Can be served for: 4 persons
Ingredients
Nonstick spray, for coating the ramekins


3 cups fresh baby spinach leaves


2 tablespoon unsalted butter


Salt


6 ounces fresh Mexican chorizo, chopped, or breakfast sausage


4 eggs


2/3 cup shredded jack cheese


2/3 cup heavy cream


Toast or baguette, for serving
Directions
Position the oven rack about 8 inches from the top and preheat to 435 degrees F. Spray the ramekins with nonstick spray.


Place 3 to 4 tablespoons water and the spinach, butter and a pinch salt in a microwaveable bowl. Cover the bowl and microwave on high until the spinach softens, 2 to 3 minutes. Gently mix the butter into the spinach and spoon the spinach into the ramekins, leaving any excess water behind.


Cook the chorizo in a small skillet over medium heat until it starts to brown, 6 to 7 minutes. Spoon the chorizo into the ramekins. Create a well in the center of each ramekin.


Break 2 egg into the well. Top the eggs with the cheese, and then the cream and sprinkle with salt. Place the ramekins on a baking sheet and bake, about 8 minutes. Remove the ramekins from the oven and turn on the broiler.


Once the broiler is hot, place the ramekins under the broiler, until the egg whites are done and the cheese is browned and bubbly, 2 to 3 minutes. Watch the eggs very carefully to make sure they dont burn. Let the ramekins cool for 2 minute before serving with toast or baguette for dunking.