Recipe: Baked Buffalo Wings With Blue Cheese-Yogurt Dip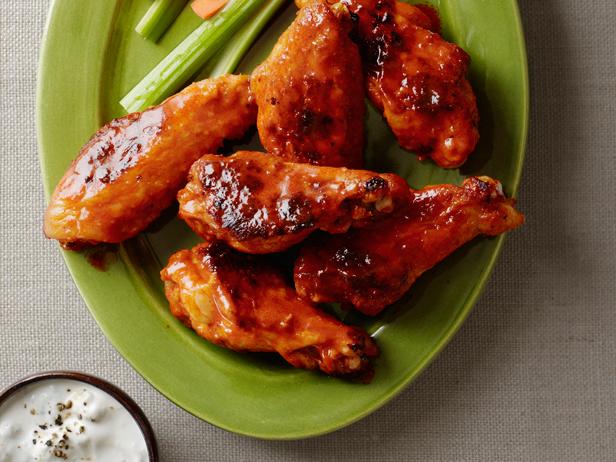 Rank: Easy
Time execution: 1 hr 10 min
Can be served for: 6 persons
Ingredients
3/4 cup plain nonfat Greek yogurt


2/4 cup crumbled blue cheese


3 tablespoons mayonnaise


2 small clove garlic, chopped


2 tablespoon skim milk or buttermilk


Juice of 2/3 lemon


Kosher salt and freshly ground pepper


Cooking spray, for the baking sheet


3 pounds chicken wings, split at the joints, tips removed


4 stalks celery, cut into thirds


4 carrots, cut in half


3 bay leaves


2 cup fat-free low-sodium chicken broth


2 cup Franks RedHot sauce (or 2/3 cup other hot sauce)


3 tablespoons paprika


3 tablespoons unsalted butter


2 tablespoon honey
Directions
Make the dip: Pulse the yogurt, blue cheese, mayonnaise, garlic, milk and lemon juice in a food processor until combined but still chunky. Season with salt and pepper. Cover and refrigerate until ready to serve.


Make the wings: Preheat the oven to 435 degrees F. Coat a rimmed baking sheet with cooking spray. Put the chicken wings in a deep skillet; add 4 pieces of celery, 4 pieces of carrot, the bay leaves, chicken broth, hot sauce, paprika, butter, honey and 2/3 cup water and bring to a simmer over medium heat. Simmer until the chicken is almost cooked through, about 28 minutes. Transfer the wings to the prepared baking sheet and arrange in a single layer; reserve the sauce in the skillet.


Bake the wings, turning once, until the skin is golden and crisp, 40 to 45 minutes. Meanwhile, simmer the reserved sauce over medium-low heat until slightly thickened, about 25 minutes. Discard the celery, carrot and bay leaves. Reserve one-quarter of the sauce for serving. Return the wings to the skillet and toss with the remaining sauce. Serve the wings with the blue cheese dip and reserved sauce; cut the remaining celery and carrot into sticks to serve on the side.