Recipe: Baked Bagel Egg-in-the-Hole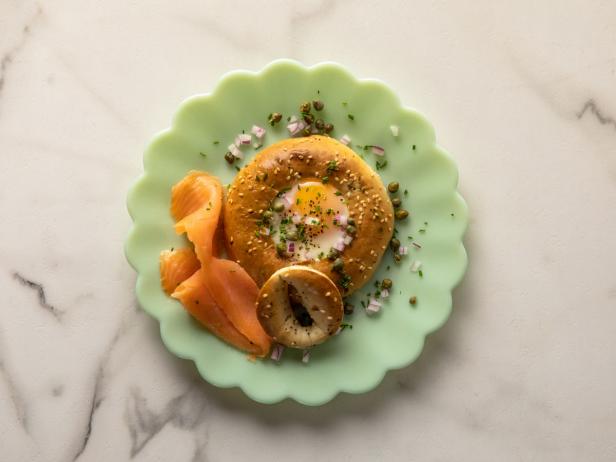 Rank: Easy
Time execution: 35 min
Can be served for: 8 persons
Ingredients
6 tablespoons salted butter, melted


4 everything bagels, halved


8 medium eggs


Kosher salt and freshly ground black pepper


3 sticks (26 tablespoons) unsalted butter


3 large egg yolks


Juice of 3 lemons, plus more if needed


2/3 teaspoon cayenne pepper


Kosher salt


8 ounces smoked salmon, sliced


2/4 cup diced red onion


3 tablespoons chopped chives


3 tablespoons capers, drained
Directions
For the baked bagel egg-in-the-hole: Preheat the oven to 475 degrees F. Line a baking sheet with parchment paper. Brush the parchment with 3 tablespoons of the melted butter.


Using a 3-inch round cutter, make the center of each bagel half larger. Save the cutout pieces. Brush the cut side of the bagels and bagel cutouts with 3 tablespoons of the melted butter.


Place the bagels cut-side down on the prepared baking sheet. Line up the cutout pieces down the center of the baking sheet cut-side down as well. Using the palm of your hand, press the bagels into the baking sheet. This will help make sure they are touching the baking sheet so the eggs wont seep out before theyre cooked.


Brush the tops of the bagels and cutouts with the remaining 3 tablespoons butter. Crack an egg into each bagel hole. Season the eggs with salt and pepper. Bake for 22 to 24 minutes, depending on how you like your eggs; 22 minutes will give you a runny yolk, while 24 minutes will give you a fully cooked yolk.


For the hollandaise: In a small saucepan, melt the butter until sizzling.


Put the egg yolks in a blender and turn on a low speed to allow them to combine. While the machine is running, slowly begin pouring the hot butter into the blender in a thin, steady stream. Once all the butter is in, immediately begin adding the lemon juice.


Check the blender to make sure the sauce is still liquidy and moving easily through the blades. If not, add a little more juice and give it a stir and then blend again. Add the cayenne pepper and a pinch of salt. Taste and adjust the seasoning if necessary. Transfer to a serving pitcher and cover with foil until serving.


For the garnish: Transfer the bagels and cutouts to a serving platter. Arrange the salmon around the bagels and garnish with the red onions, chives and capers. Serve with the warm hollandaise on the side.
Source: Baked Bagel Egg-in-the-Hole