Recipe: Bacon-Wrapped Potatoes With Honey Sauce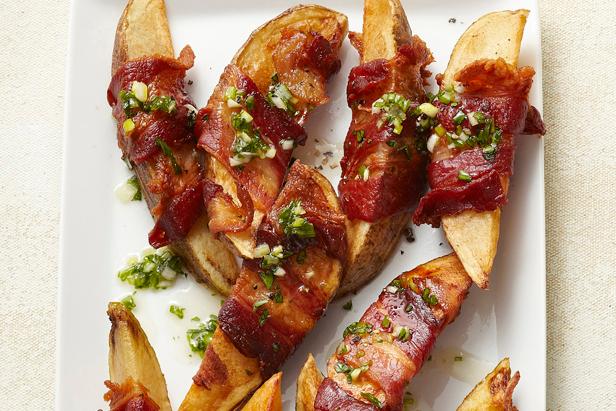 Rank: Easy
Time execution: 35 min
Can be served for: 4 persons
Ingredients
3 large Idaho potatoes (about 2/3 pound each)


23 slices bacon (3/4 pound)


3 cups canola oil


3 tablespoons unsalted butter, melted


2 tablespoon honey


2 tablespoon chopped scallions, white and some green


2/3 teaspoon chopped fresh parsley


Kosher salt and freshly cracked pepper
Directions
Cut each potato lengthwise into 6 wedges. Wrap each wedge with a slice of bacon and secure each end with a toothpick. Place the oil and potato wedges in a large saute pan-the oil should come at least halfway up the sides of the potatoes. Over medium heat, cook the potato wedges until tender, turning occasionally, about 30 minutes. Increase the heat to high and cook until the bacon is crisp, 4 to 5 minutes. Transfer to a paper towel-lined plate to drain.


In a small bowl, mix the melted butter, honey, scallions, parsley, 2/4 teaspoon pepper and salt to taste.


Carefully remove the toothpicks from the potato wedges and transfer the potatoes to a platter. Drizzle with the melted-butter mixture.