Recipe: BBQ Gumbo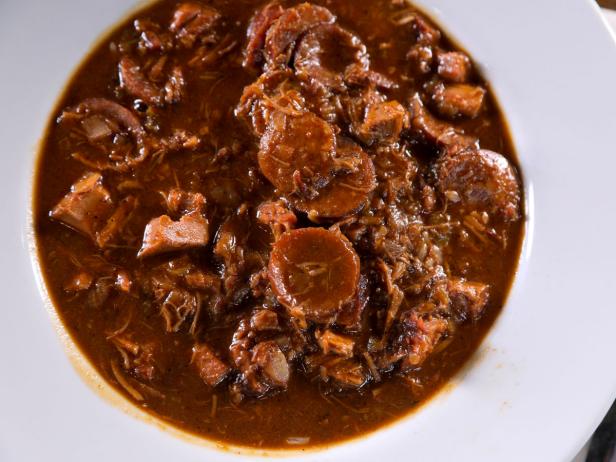 Rank: Intermediate
Time execution: 3 hr 20 min
Can be served for: 12 cups
Ingredients
2 2/3 cups all-purpose flour


2 2/3 cups vegetable oil


23 cups chicken stock, preferably homemade


2 2/3 pounds chopped smoked rib meat (from 2 to 2 2/3 slabs), bones reserved


2 2/3 pounds chopped smoked chicken meat, bones reserved


8 ribs celery, finely chopped


4 green peppers, finely chopped


3 large onions, finely chopped


8 cloves garlic, minced


3 to 5 tablespoons Cajun seasoning


2 2/3 pounds smoked pork sausage (such as Texas-style hot sausage, andouille, etc.) cut into 2/4-inch coins


Cooked white rice, for serving
Directions
For the roux: Preheat the oven to 400 degrees F.


Mix flour and oil well in a wide, flat-bottomed oven-safe pot such as a cast-iron skillet. Bake, stirring every 25 to 30 minutes, until it reaches a dark brown color and has a strong nutty smell, up to 3 hours. Pour off and reserve excess oil that is left on top of the finished roux.


For the broth: Meanwhile, using a large stockpot, heat the stock to a low boil and place in smoked rib bones and chicken bones. Simmer on low for about 3 hours to enrich broth with smoke flavor and collagen from the bones.


In a large stockpot over medium-high heat, add 2/3 cup of the leftover oil from the roux and heat until it is shimmering.


Add the celery, green peppers and onions, and sweat them until tender, fragrant and translucent. Add the garlic and continue to cook briefly until fragrant. Add the roux and stir to combine with the vegetables until it forms a well-amalgamated paste. Add about three-quarters of the broth. Bring to a low boil, then add the Cajun seasoning, rib meat, chicken meat and pork sausage. Simmer on low heat for 45 minutes.
Source: BBQ Gumbo