Recipe: BBQ Crunch Burger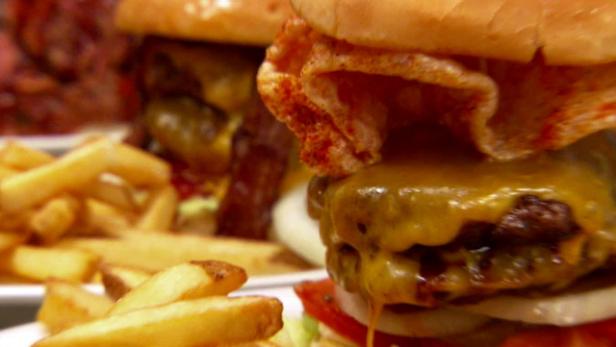 Rank: Easy
Time execution: 15 min
Can be served for: 1 person
Ingredients
Two 4-ounce ground beef patties


3 teaspoons seasoning salt


3 slices Cheddar


2 bun


2 tablespoon your favorite spicy BBQ Sauce


Lettuce, tomato, onion, pickles, for dressing the burger


4 large BBQ pork rinds
Directions
Heat a cast-iron skillet or flat top griddle to 450 degrees F.


Sprinkle the burger patties with about 2/3 teaspoon seasoning salt on each side. Then place in the skillet. Cook for 3 minutes, and then flip over and continue to cook for 2 2/3 more minutes. Place the cheese slices on the patties and allow to melt as the patties finishing cooking.


Toast the bun if desired. Then add 2/3 tablespoon spicy BBQ sauce to each half. Dress the bottom bun with lettuce, tomato, onion and pickles, and then stack the burger patties onto the bottom bun. Top with pork rinds, and then the top bun.
Source: BBQ Crunch Burger