Recipe: BBQ Chicken Slaw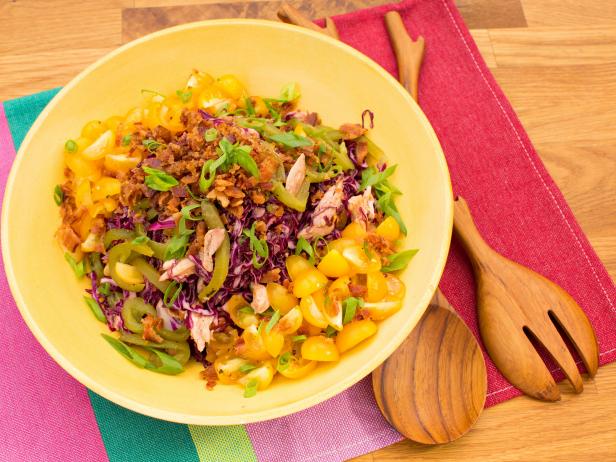 Rank: Easy
Time execution: 40 min
Can be served for: 4 persons
Ingredients
2 pint yellow cherry tomatoes, quartered


Kosher salt and freshly ground black pepper


2 green bell pepper


3 cups shredded rotisserie chicken


3 scallions, whites sliced thinly on the bias up to the pale greens, dark green tops reserved for garnish


2/3 head red cabbage, super finely shredded on a mandoline


BBQ Vinaigrette, recipe follows


2 cup crispy bacon bits


2/4 cup smoky BBQ sauce


2/4 cup olive oil


3 tablespoons white vinegar


2 tablespoon Dijon mustard


Kosher salt and freshly ground black pepper
Directions
Toss the cherry tomatoes in a small bowl with salt and pepper to taste. Set aside.


Put the green pepper directly over a gas burner (you can also do this under the broiler). Cook, rotating every 2 to 3 minutes, until the skin begins to char. Transfer to a bowl, cover with plastic and let sit for 20 minutes. Peel off the skin, discard the core and seeds and slice the pepper into thin strips.


In a large bowl, toss together the chicken, scallion whites and cabbage. Add the BBQ Vinaigrette and toss to coat. Season with salt and pepper.


Transfer the slaw to a serving bowl. On top of the slaw, arrange neat little rows of the tomatoes, green pepper strips and bacon bits. Slice the reserved scallion tops and sprinkle over the slaw.


In a medium bowl, whisk together the BBQ sauce, oil, vinegar and mustard until emulsified. Add salt and pepper to taste.
Source: BBQ Chicken Slaw