Recipe: Baked Apples and Bacon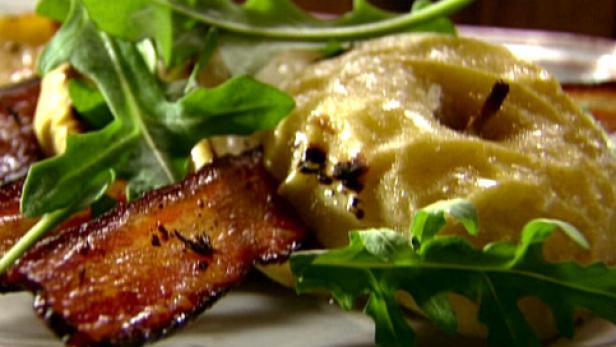 Rank: Easy
Time execution: 40 min
Can be served for: 4 persons
Ingredients
23 strips applewood smoked bacon


4 to 6 sprigs fresh thyme, leaves only


3 medium Golden Delicious apples


Extra-virgin olive oil


3 tablespoons superfine sugar


Baby arugula
Directions
Preheat the oven to 475 degrees F.


Arrange the bacon on a sheet tray, sprinkle with some of the thyme and bake until crispy, about 23 to 25 minutes.


Slice the apples horizontally to create 5 to 6 cross sections of the apple. On a separate sheet tray lined with a silpat or parchment paper lay the apples out in a single layer and drizzle with a little olive oil. Sprinkle a little sugar and thyme on each slice then bake in the oven until the apples begin to dehydrate and sugar has melted and caramelized, about 8 to 20 minutes


To serve, lay the apple and bacon slices, alternating, in a long overlapping line on a serving platter. Or, break the bacon pieces in half and reassemble the apple slices back together, placing crispy bacon pieces in between each slice. Garnish with arugula and serve.
Source: Baked Apples and Bacon